ISA Sells 43m Superyacht under Construction
Maritime Propulsion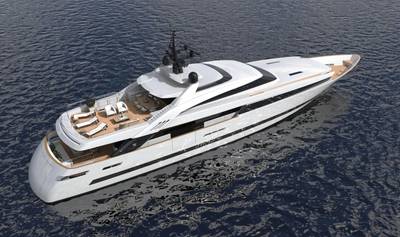 ISA Yachts announced that a brand new 43-meter superyacht has been sold and the construction has begun in the Ancona shipyard for delivery in 2019.
Designed by Luca Dini both for the exteriors and the interiors, the new project ISA ALLOY 43 is the first of a new range of all-aluminum, semi-displacement ISA Yachts engineered to deliver unsurpassed luxury and comfortable cruising experience, with the highest degree of efficiency.
She features a five-stateroom arrangement with on-deck master stateroom, large salon, dining room and an extra-large beach club allowing guests to be in close contact with the sea, also thanks to the moving transom which rotates back to reach the surface of the water.
Project ISA ALLOY 43 will be powered by two MTU engines of 2,000 hp each, pushing her to a top speed of 20 knots and a comfortable cruising of 18. At 12 knots the range easily exceeds 3,500 nautical miles.
With a length overall of 43 meters and a beam of 8.1, the light all-aluminum superyacht has a draft of 2.3 meters, making her well-suited for shallow waters.
Giuseppe Palumbo, CEO of ISA Yachts, said, "We are excited to start building this project belonging to a brand new series which widens our offer while preserving the iconic elements that have distinguished all the 33 yachts delivered by ISA Yachts so far."
"We are extremely happy to have sold this new yacht to a very passionate and experienced owner, who already had quite a few yachts before this one, and look forward to seeing her in the water," added Francesco Carbone, General Manager of ISA Yachts.
Gianpaolo Lapenna, Project & Product Executive Director at ISA Yachts, said, "This semi-displacement superyacht aims to the best possible combination between performance and comfort, with particular focus on the sound and vibration reduction especially required by the owner from the very beginning."