SF Marina Delivers Floating Breakwater to Four Points Marina
Yachting Journal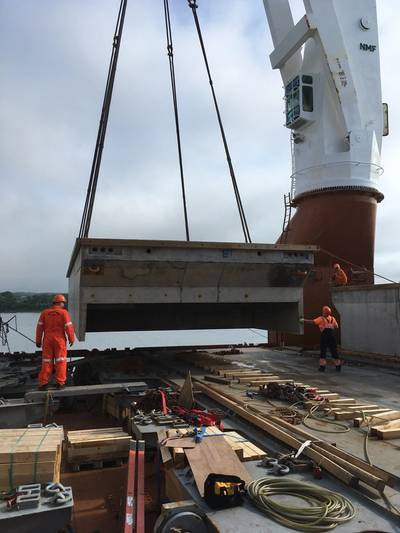 SF Marina Systems has delivered 6m wide floating breakwater to Four Points Marina in Portland, Me.
In the fall of 2018, two shipments of concrete floating breakwaters were delivered to Portland Me. The 6m wide ( 20 ft ) solid cast floating breakwaters with a total length of over 1500 ft will form the perimeter protection for the New Four Points marina. Installation of the Heavy Mass anchor and large diameter chain anchoring system is progressing.
In addition to the floating breakwaters, super yacht fingers comprised of solid cast concrete floating docks were also delivered.
The new Four Points Marina is slated to be open In the spring with full amenities for small bay boats to super yachts.
Overview of the marina :
State of the art, brand new super-yacht marina - opening May 2019. Uniquely featuring alongside berthing for the world's largest yachts in a protected safe harbor with sweeping views of Casco Bay. Seasonal and Transient slips available.

Facility:
150 slips
Unlimited vessel length
No beam restrictions
Depth over 24 feet
Concrete wave attenuators
IPE decking
30 amp; 50 amp; up to 3-phase 100amp electricity
Fresh water at all slips
Fuel dock 25GPM - ethanol free gas and diesel
High-speed in-slip fueling 100GPM
Pump-out
Rubbish/Recycling
Security gates