Superyacht Summer: Italian Yachts Lead
The summer season in most of Europe has been off to a sunny and warm start, which has many longingly wishing to spend time at sea. Those with access to the privileged world of Superyachts will be looking forward to getting underway and traveling the world. It's a great time to be a yacht owner, but the follow-on is that due to the increased utilization, the number of willing sellers typically drops. This leads to a slowdown in the sale and purchase activity and can be a good time for yacht brokers to look at taking their own summer breaks. This seasonal slowdown provides the perfect time for market watchers to sit back and look at the activity over the busier winter season transactions.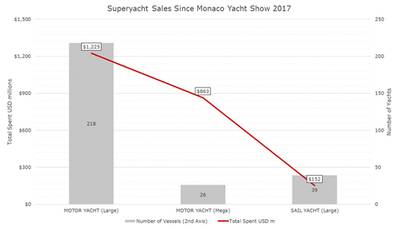 Source: Vessels ValueThe Monaco Yacht show normally initiates the busiest market window. Large Motor Yachts (up to 499 GT) have made up most of the transactions both by count and value. The high asset values in the Mega Yacht markets led to well over $800mn in vessels changing hands. Sailing enthusiasts generated more transactions, but for substantially smaller units, and in turn a lower overall valuation changing hands.

Italian built yachts took the pole position for traded values from October 2017 to the present, followed by Netherlands and U.S.-based yards. The most expensive sale during this time window was the Andromeda (107m), which was reportedly sold for $136.9m dollars putting Norwegian builders in the top spot for mega yachts. The number of US built yachts was the highest though, leaving Italian built units slightly behind.

The prime yachting season may be discouraging deals right now, but prospective buyers will be doing their homework now ahead of the Monaco Yacht show this coming September. Understanding the market and knowing numbers/trends from the previous year can help prospective buyers in their investment decisions.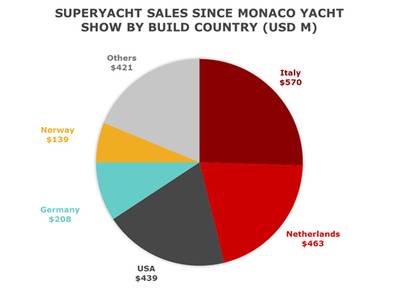 Source: Vessels Value

• Europe • Netherlands • United States