TACO Marine Partners With Capt. Rick Murphy's Sportsman's Adventures
Yachting Journal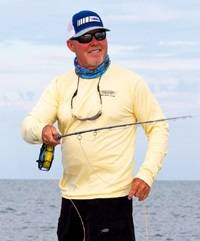 TACO Marine has formed a partnership with Captain Rick Murphy, host of the Sportsman's Adventures saltwater fishing show, that includes show sponsorship and a collaboration with Captain Rick on future development of saltwater fishing and boating products.
Sportsman's Adventures airs on the Discovery and Pursuit channels from January to June and on Fox Sports Sun from April thru the following March.
The show is filmed inshore and offshore around the globe with advanced camera technology that puts viewers right in the heart of the action.
A member of TACO Marine's professional staff for the past year, Captain Rick (shown left) is the all-time winningest saltwater tournament angler in the U.S. and the only angler to win inshore and offshore saltwater championships in every category (bonefish, redfish, sailfish, tarpon, permit).
TACO Marine, a division of TACO Metals, Inc., designs, manufactures and distributes a wide range of products, including Rub Rail, Hardware & Accessories, Canvas & Tower Fabrication, Seating, Sport Fishing equipment and custom/specialty products.