Contact Us

Rob Howard
,
Vice President of Sales and Marketing
Rob started with Maritime in late 1998 as advertising sales manager for Maritime Reporter and Engineering News & Marine News Magazine and grew with the company into his current position of the past 8 years as Vice President developing and managing the sales and marketing team for the world's leading B2B media group covering the international maritime, shipbuilding and underwater technology markets.
Phone:
+1 561 732-4368
Fax:
+1 561 732-6984
Email:
howard@marinelink.com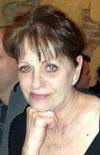 Lucia Annunziata
,
Advertising Sales Manager
Lucia joined the sales staff at Maritime reporter in 1986. Over the last 27 years she has cultivated sincere relationships and developed many loyal customer affiliations. In her tenure as sales manager of the publication, Lucia's devotion and emphasis on customer fulfillment has been an integral factor in the company's triumphs. She is a veteran in the maritime industry, and her name is synonymous with Maritime Reporter.
Phone:
(212) 477-6700 xt. 6241
Fax:
(212) 254-6271
Email:
annunziata@marinelink.com