150m Superyacht Unloaded in Auckland
Yachting Journal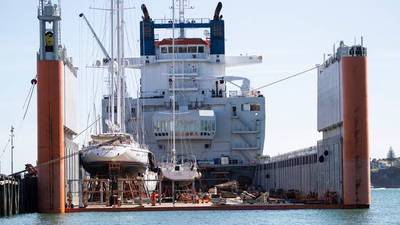 Asia Pacific Superyachts NZ's managing director, Duthie Lidgard, was on hand for the 150m superyacht unloading from the yacht transport vessel at Auckland's North Wharf.
A ship transporting superyachts arrived in Auckland to drop-off and pick up vessels, including a monster 150m motor yacht, as reported by the New Zealand Herald. The DYT Yacht Transport vessel visits Auckland twice a year and docked at Wynard Quarter January 11th, off-loading about four yachts and taking on two others.
Divers entered the water to go under the yachts and remove the wooden chocks and "cradles" that had held them in place while they were being transported. Members of the public watched as the large motor yacht was unloaded from North Wharf.