Aluminum Marine Delivers Catamarn to Explore Group
Yachting Journal
Auckland-based tourism operator Explore Group expanded its fleet of passenger and tourism vessels late last year with the delivery of Tuhi Rapa, an Incat Crowther 29 design built by Australian shipyard Aluminium Marine. The vessel is designed to transport up to 300 passengers and has been plying the waters of Auckland Harbour and the Bay of Islands since its maiden voyage in late 2022.
Designed to be used as both a passenger ferry as well as a wildlife sightseeing cruise vessel – Tuhi Rapa features a range of design elements to help increase operational efficiency including the addition of midship boarding doors on the main deck.
Tuhi Rapa's main deck features spacious indoor seating for 123 passengers, a large bar and kiosk, three toilets, outdoor seating for 8 more passengers and an overhead bicycle store. The mid-deck includes outdoor seating for 37 passengers as well as indoor seating for 65 additional passengers, a bathroom and the vessel's wheelhouse. There is also a viewing platform and seats for 67 passengers on Tuhi Rapa's roof
deck.
"The design of Tuhi Rapa is based on our proven Incat Crowther 29 catamaran, however we worked with Aluminium Marine to tailor Tuhi Rapa specifically to the needs of Explore Group," said Dan Mace, Incat Crowther's Technical Manager.
Tuhi Rapa was named in consultation with Ngāi Tai ki Tāmaki, the original inhabitants and iwi of Auckland, as part of their ongoing partnership with Explore Group.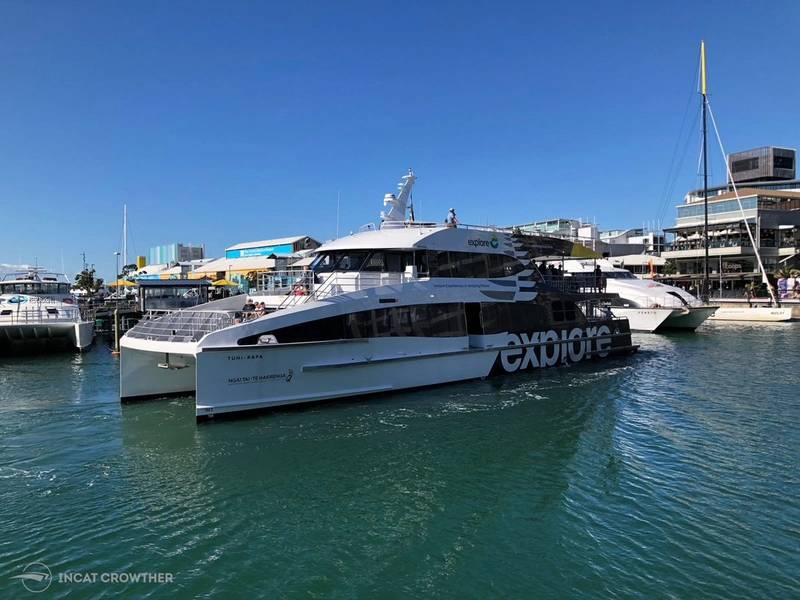 Image courtesy Incat Crowther
Main Particulars
Length Overall - 96' 1" / 29.3m
Length Waterline - 96' 1" / 29.3m
Beam Overall - 26' 3" / 8.0m
Draft (hull) - 3' 11" / 1.20m
Draft (prop) - 5' 1" / 1.55m
Depth - 8' 2" / 2.50m
Flag - New Zealand
Class / Survey - NSCV 1C Aus
Capacities
Fuel Oil - 1 056 gallons / 4 000 litres
Fresh Water - 185 gallons / 700 litres
Sullage - 185 gallons / 700 litres
Passengers - 300
Crew - 5
Propulsion & Performance
Speed (Max) - 28 knots
Main Engines - 2 x Yanmar 6AYM-WGT
Power - 2 x 911hp @ 1938rpm
Propulsion - 2 x Propellers
Generators - 2 x Isuzu 4 cyl 60 kVa