Annapolis Yacht Sales Enhances Organizational Structure
Yachting Journal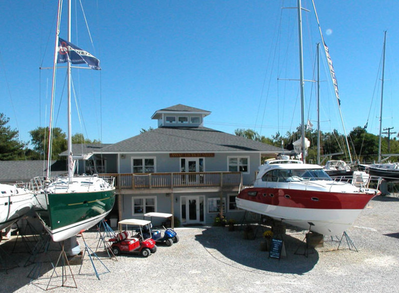 In order to keep up with demand generated through rapid infrastructure growth and expansion, Annapolis Yacht Sales (AYS) is excited to introduce a new director-facing model of operations; driven by inside personnel promotions and a reimagined organizational structure.


Chris Humphreys, Rob Taishoff and Tim Wilbricht purchased AYS five years ago with the intention of growing the company exponentially, and the new structuring comes as a direct response to the success in meeting that goal. AYS' new Virginia Beach location is the most recent result of this expansion effort.

In light of this growth, AYS announces Kate Dawson, Chris Humphreys and Tom Turner as its Council of Directors. The Directors will focus on operational decisions as well as further infrastructure expansions and the development of AYS' preeminent role in yacht sales and services for the Mid-Atlantic region.

Originally opening its doors in 1953, Annapolis Yacht Sales is the leading new and used boat dealer in the Mid-Atlantic region. AYS proudly represents Beneteau sailing yachts, Lagoon Catamarans, as well as power yachts from EdgeWater, Steiger Craft, & Cruisers Yachts.

Annapolis Yacht Sales handles every part of the buying and selling process, including financing, documentation and extended warranty options. AYS also has a renowned in-house service department that can handle all yacht and boat repair, service and maintenance needs.

Director Biographies

Kate Dawson, Director of Operations: Kate Dawson, daughter of former owners Garth & Sue Hichens, began working for AYS in 2008 as Marketing Manager and Closing Administrator. Kate also fulfilled administrative roles in the service department and, in 2015, stepped in as Controller. Kate is a lifelong sailor with a passion for boating on the Chesapeake Bay. Kate earned her BS degree in Marketing from Salisbury University in 2005, and currently resides in Annapolis, MD with her two children.
Chris Humphreys, Director of Client Satisfaction: Chris Humphreys began his career in the marine industry in 1983, working after school and during the summer as a rigger for Custom Offshore Yachts in Riverside, NJ. Chris moved to Annapolis in 1991, where he worked as a sail maker for several years before beginning his employment with Garth and Sue Hichens in 1995. He has spent 18 years as Service Manager of Annapolis Yacht Sales, winning numerous awards, including the Eastport Yacht Club's "Outstanding Marine Wizard," which recognizes Excellence in the Marine Trades. Chris earned his BS degree in Business Management from the University of Maryland, University College in 1997. Chris and his wife, Jean, currently reside in Stevensville, MD with their three children.
Tom Turner, Director of Service: Tom Turner, Mercruiser master certified technician and Certified Service Manager, has worked in Service Management for 34 years. Tom is a Volvo Penta Certified Technician and previously held the position of Vice President for the Marine Trades Association of Maryland (MTAM) on the Eastern Shore. Tom was born and raised on Kent Island, and enjoys spending time on the Chesapeake Bay with his wife and two children.
Employee Updates

Announcing Scott Rhodes as Power Boat Sales Manager.
Announcing Chris Beardsley as Sales Manager for the new Virginia Beach location.

In addition to the restructured system of directors, AYS is pleased to announce the promotion of the following employees:
Vera Sohovich promoted to Sailboat Sales Manager
Jessica Dixon promoted to Business Office Manager
Scott Oliver promoted to Controller
Amanda Laughlin promoted to Business Office Coordinator
Kelly Perna promoted to Client Satisfaction Coordinator

Annapolis Yacht Sales' mission statement is: "Building lasting relationships with our customers, partners and employees while serving the recreational and travel community. Our core values shall be based on Honesty and Integrity and Service to the Community."

• Chesapeake Bay • Maryland • mid-Atlantic