Archipelago Expedition Yachts Launches Flagship Archipelago 47 Catamaran
Yachting Journal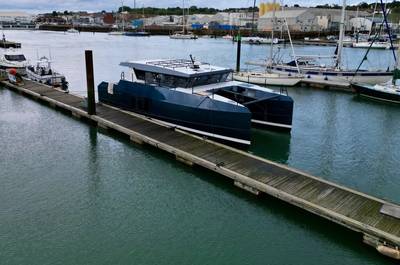 Leisure shipbuilding firm Archipelago Expedition Yachts said it will launch its flagship Archipelago 47 catamaran at the Southampton International Boat Show in partnership with vessel designer Chartwell Marine.
The vessel will be at marine berth M168 at the show from the September 16-25, with sneak previews of future expansions to the Archipelago range — comprising new vessel designs, sizes, and propulsion methods — also on display.
Founded on the high-power multi-hull workboat expertise of Chartwell Marine, the Archipelago 47's robust and ocean-capable design boasts a strong commercial heritage, while also offering the safety and home-from-home experience of a modern leisure vessel. Accommodating up to eight people with four cabins and a comfortable galley, and with a top speed of over 20 knots and an ocean-capable range, families can venture far, and fast. All the necessary appliances, plus bespoke onboard joinery, will be combined with planned wheelchair-accessible amenities.
With an optimized hull design and opportunities for cleaner propulsion, the Archipelago 47 answers the rising call in the leisure market for sustainable alternatives to traditional, emissions-heavy monohull superyachts. The vessel's recyclable aluminum double hull form not only reduces water drag to increase fuel efficiency and stability, but also offers an adaptable foundation for a range of customizable propulsion options, including hybrid and electric.
Stephen Weatherley, Managing Director of Archipelago Expedition Yachts, said, "Commercial catamarans have the kind stability, power, and reliability that makes them invaluable to today's offshore workers. It only made sense to follow in those footsteps in developing an ocean-capable leisure boat for families, while adding our own twist of style and comfort. We're very excited to be able to show off our flagship vessel in person for the first time at Southampton Boat Show."
Andy Page, Director of Chartwell Marine, added, "Collaborating with Archipelago on this project has been a great opportunity to put our sustainable multihull design expertise to work in the leisure sector. The results have been fantastic. The Archipelago 47 is a one-of a kind vessel, and a clear example of what cross-industry collaboration can achieve in the maritime industry."
Archipelago Expedition Yachts has three build slots available for the Archipelago 47, and is offering discount rates to those who place their order at the Southampton Boat Show. Interested parties are encouraged to visit the vessel and speak to the Archipelago and Chartwell teams at berth M168, to learn more about the vessel and the evolving Archipelago range.