Benetti Sells Class Category Yachts
Yachting Journal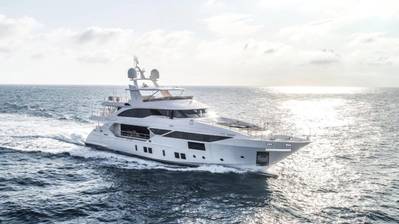 Benett, an Italian shipbuilding and Boat building company, announced that its Viareggio shipyard has sold two Class category yachts - Mediterraneo 116 BM006 and Delfino 95 BD106. It has also announced the delivery of Fast 125 BF108 M/Y "Bangadang" to her owner.

After the sale of the first Oasis 40M BO101 to an American owner, Benetti closes the important sale of two Class category yachts.

The first is the sixth Mediterraneo 116 unit BM006, a 35.5-meter displacement yacht, whose exteriors by Giorgio M. Cassettacome together in perfect harmony with the interiors designed by Benetti's Interior Style Department.

The sophisticated interior cabinetry that adorns the walls and frames the windows in every setting gives the yacht a uniquely "Made in Italy" look and feel.

The Layout runs across four decks, which can accommodate 10 guests and 7 crew. The lounge on the Main Deckfeatures large windows and is divided into a living area with comfortable sofas and a dining area occupied by a table seating 10.

On the same deck, the owner's cabin, which is accessed through a study, is decorated in light and dark-shades of wood and features a his and hers bathroom separated by a large central shower.

On the Lower Deck there are 2 double VIP cabins and 2 Guest cabins, one of which with a coach bed, all with private bathrooms, plus 3 double cabins for the crew. The captain's cabin on the Upper Deck is next to the bridge.

The standout features on the exteriors are the glass handrails on the Sun Deck and Upper Deck along with the Jacuzzi in the bow section of the latter. The Sun Deckis very spacious and is ideal for enjoying convivial moments to live outside.

The second yacht, sold to a European owner, Delfino 95BD106confirms the appeal that the Benetti name gets on the markets across the globe thanks the broad range of models on offer.

Classic Benetti in style, this 29-meter yacht stands out for the sleek, streamlined contours designed by Giorgio M. Cassetta and sophisticated interiors created by the Benetti Interior Style Department.

The boat's layout is split into 4 decks, with 8 guests accommodated on the Lower Deckin 2 VIP and 2 guest cabins, plus 3 more cabins for a crew of 5. The owner's cabin is in the bow area on the Main Deck, while the de rigeur swimming pool in the bow section of the Upper Deckdemonstrates the desire to enjoy the pleasure of navigation to the full, as does the second helm station on the Sun Deck.

The two 1,000 hp Man V8 engines deliver a range of about 2,400 nautical miles at a cruising speed of 10 knots.