Bering Unveils New Superyacht Concept
Yachting Journal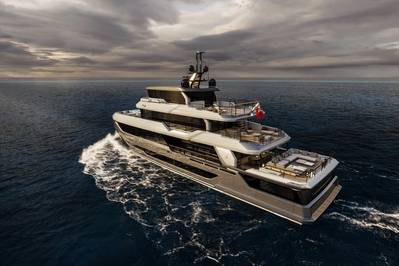 Bering Yachts has presented a conceptual design of B120, its newest full-displacement explorer superyacht model.
B120 represents a brand-new approach and features design and engineering solutions unique for Bering yachts. Due to its 8.9-meter beam, this 37.1-meter boat has space. This gives designers and naval architects plenty of flexibility to implement several possible configurations, customizing the yacht for the owner.
Alexey Mikhailov, founder of Bering Yachts, said, "While designing this boat, we have received plenty of feedback from our customers, and we tried to execute their suggestions in B120. For example, a private deck accessible only by the owners, or a trendy request – a beach club. What is different about B120, you don't need to go down to the beach club, as in most boats of this class. We have blended it with the swimming platform, and the beach club is now elevated by 70 centimeters, making it more useful."
And for those who are interested in Bering's buy-to-charter program, this yacht gives several options bolstered by the flexibility of a wide-beam displacement hull. The options might include a layout with six identical cabins, four on a main deck, and two on a lower deck, which give similar accommodations to the charter guests. Secluded areas bring value for those who need privacy, and spacious relaxation zones give plenty of options if you prefer water activities or calm sunbathing.
In its current design, B120 has 437 tons of displacement and can accommodate 12 guests and nine crew members over its four decks while giving them all the necessary amenities. Twin diesel engines power her to 10-12 knots of cruise speed with maximum speed being 14 knots. 54,100 liters of tank capacity gives B120 enough fuel for a range of over 4,000 nautical miles.
The project was designed by Bering Yachts in collaboration with Sabdes Design and Phathom Design Studio. The B120 marks Phathom Studio's first-ever design collaboration with Bering Yachts to develop the full design of a flexible, charter-friendly explorer offering big-boat amenities in a sub 500-GT package.
Her interior design, penned by Phathom, follows a soft and seamless visual language where light and creamy tones are balanced by a more dramatic use of color, textures, and punctuated by metallic elements and an abundance of natural light. A flexible and functional layout was meticulously studied to appeal to both charter as well as owner usage and features an array of innovative spaces and amenities not seen on this size of vessel.
Phathom aimed to create a dynamic and sensitively-balanced exterior. Much consideration was given to the overall proportion of the vessel to visually reduce the superstructure height in comparison to length, as many explorers tend to feel too high in this size segment. This purposeful yet elegant exterior is sure to stand the test of time.