Beta Test for Improved Dometic Titan Chiller
Yachting Journal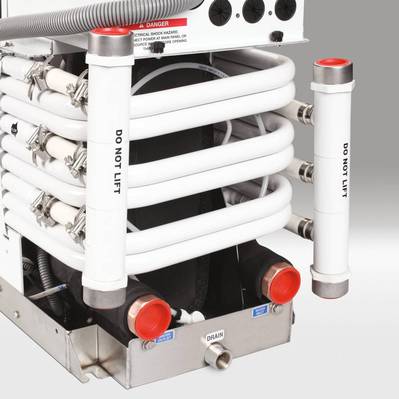 Dometic Marine has announced the release of a recent beta test for the Dometic Titan Chiller with new titanium tube condenser.
The four-month test, on the 88-foot Hatteras yacht Esprit D'IV in the Chesapeake Bay, showed that the new titanium condenser stands up to frequent harsh cleaning and high water velocity far better than traditional condenser metals.

Titan chiller 2Debris from invasive marine life has been increasing considerably in recent years, causing serious issues with the Hatteras' chillers. Dometic studied this problem extensively and found that the common methods used to battle it, such as acid cleaning and higher water velocity, were detrimental to cupronickel tubing. Therefore, Dometic developed the Titan Chiller which uses titanium tubes that can easily withstand these cleaning methods.

"Until now, the problem has been that chiller condensers – made of a softer metal called cupronickel – simply couldn't stand up to the acid cleaning and high water velocity needed to keep the invasive marine life out of the chiller's plumbing," said Charlie A. Barefoot, Jr., Vice President of Engineering and Technical Support at Dometic. "This is why we built the Titan Chiller with a condenser made of industrial-grade titanium. It's a very strong material that does not erode the way cupronickel does."

Over the last few years, the Hatteras, which spends winters in Florida and summers in the Chesapeake Bay area, experienced particularly severe erosion and corrosion in its chiller condensers resulting from extensive debris picked up in southern as well as mid-Atlantic waters. Frequent cleaning of the tubes with acid-based solutions was rapidly eroding the condensers.

The Dometic engineering team installed three Titan Chillers, with titanium condensers, on the vessel. Four months of beta testing showed that the Titan:

Withstands Acid Cleaning: Titanium condenser tubes can be cleaned as often as needed with solutions such as muriatic acid, with no erosion or corrosion of the unit, as is seen with cupronickel.
Allows for Greater Water Velocity: The titanium condenser can cope with more than five times greater water velocity than cupronickel, which erodes easily. The rapid water flow keeps the coils free of debris and keeps the chiller running optimally.




• Chesapeake Bay • Dometic • Esprit