Bradford Marine Acquires Roscioli Yachting Center
Yachting Journal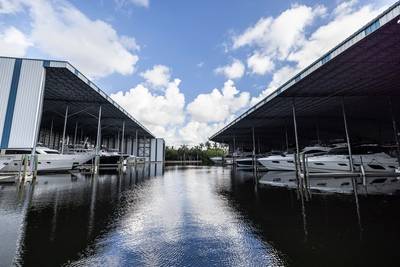 South Florida full-service marina and yacht repair facility Bradford Marine announced the acquisition of Roscioli Yachting Center from OneWater Marine Inc. Bradford acquired all the real estate and service operations at Roscioli on October 1, 2023. As part of the transaction, Bradford and OneWater have entered a lease arrangement for OneWater's sales organization to remain on the property, and for Bradford to provide support for the OneWater Yacht Group and Sunseeker brands.
"This marks an incredibly important milestone for our growth as we bring together two esteemed full-service marinas, each with a rich history of delivering excellence in yacht repair and maintenance," said John Kelly, CEO of Bradford Marine. "By combining our teams' extensive expertise, we will continue to improve the yachting experience for our customers while striving to make yacht ownership easy and enjoyable."
"Since my father and I entered into the Fort Lauderdale marine industry in 2019 with our acquisition of Bradford Marine and Bradford Grand Bahama, we've been able to expand our service offerings through our acquisitions of Billfish Marina, High Seas Technology, Pipewelders Marine, P&R Canvas, and now Roscioli Yachting Center," said Michael Kelly, President and COO of Bradford Marine. "We're excited to celebrate our expansion with our Bradford family of customers and the marine community at the upcoming Fort Lauderdale International Boat Show later this month."
A team of 40 employees from Roscioli are joining the Bradford Marine team and bring the combined company to 260 employees.
Key components of the expansion with Roscioli Yachting Center's adjacently located facility, include the addition of a 320-ton lift, which will enable Bradford Marine to handle a wider range of vessels up to 150 feet.
With increased in-water dockage capacity, Bradford Marine will be able to accommodate more vessels simultaneously with an additional 5,000 feet of covered dockage with a total across the 38-acre property of over 19,000 linear feet for yachts up to 180 feet. The acquisition also adds 1,000 linear feet of covered dry dockage that brings Bradford Marine's total dry dockage to 3,500 linear feet.