Cachet Covers & a Boy's Fascination with Ships
Like many boys, Charles. F. "Bud" Kirby, Jr. loved ships. He had drawings, models, pictures, newspaper clippings, and scrapbooks. And, as his son, Don, recently learned, he had cachet covers of submarines.
Bud would send stamped envelopes to the Electric Boat Company that he had addressed to himself in Watertown, Mass. These envelopes would be stamped with a commemorative cachet and then appropriately cancelled at Groton, Connecticut, where the EB shipyard was located, or on the ship if it had been commissioned.
Each ship has its own post office, and its own cancellation stamp. During the war ships used a more generic "U.S. Navy" cancellation for security reasons.
The hobby of collecting ship covers started in the 1930s. They were issued for events such as keel laying, launching and commissioning. Organizations such as the American Naval Cancellation Society (ANCS) and Universal Ship Cancellation Society (USCS) promoted the hobby. For Kirby, his collection is small, and not necessarily rare or especially valuable, but says a lot about his general fascination with ships.
After high school, Kirby would spend time aboard real naval ships. His college education at Boston College was interrupted by the war. He enlisted in the Marine Corps and became a radio-tail gunner on SBD Dauntless dive bombers at Guadalcanal and the South Pacific. He spent time on aircraft carriers and transports. After the war he completed his education at UCLA and lived in California and Washington. He passed away in 2010.
"My dad kept these in the safe deposit box in an envelope labeled "Bud's personal momentos," said Don.
Kirby's collection are of pre-war submarines, but all of them would serve in the Pacific, like him. They were the submarines Salmon, Seal, Skipjack, Sargo, Seadragon and Sealion. They represent several different classes of submarines, but with very similar characteristics. The newest of the six boats, Sealion, was attacked and damaged in the Philippines on the opening day of the war with Japan, and scuttled soon after. But the other five served with distinction and survived the war.
The author is a retired U.S. Navy captain and Bud Kirby's nephew.

USS Salmon commissioning cover (cancellation March 15, 1938 aboard USS Salmon)
USS Salmon (SS-182) was the lead ship of her class of submarine
Builder:Electric Boat Company, Groton, Connecticut
Laid down:15 April 1936
Launched:12 June 1937
Commissioned:15 March 1938
Decommissioned:24 September 1945
Struck:11 October 1945
Fate:Constructive loss due to battle damage; broken up for scrap, 1946
Salmon earned nine battle stars for World War II service in the Asiatic-Pacific area.

USS Seal commissioning cover (cancellation April 30, 1938 aboard USS Seal)
USS Seal (SS-183), a Salmon-class submarine
Builder:Electric Boat Company, Groton, Connecticut
Laid down:25 May 1936
Launched:25 August 1937
Commissioned:30 April 1938
Decommissioned:15 November 1945
Struck:1 May 1956
Fate:Sold for scrap, 6 May 1957
Seal was awarded ten battle stars for her World War II service.

USS Skipjack launching cover (cancellation Oct. 23, 1937 at Groton, Conn.)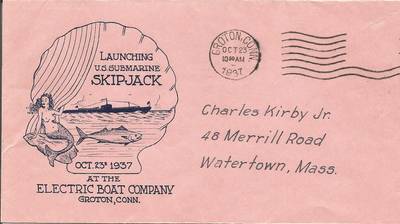 Photo: Edward Lundquist
USS Skipjack (SS-184), a Salmon-class submarine
Builder:Electric Boat Company, Groton, Connecticut
Laid down:25 May 1936
Launched:25 August 1937
Commissioned:30 April 1938
Decommissioned:15 November 1945
Struck:1 May 1956
Fate:Sold for scrap, 6 May 1957
Skipjack received seven battle stars for World War II service.

USS Sargo launching cover (cancellation July 6, 1938 at Groton, Conn.)
USS Sargo (SS-188), the lead ship of her class of submarine
Builder:Electric Boat Company, Groton, Connecticut
Laid down:12 May 1937
Launched:6 June 1938
Commissioned:7 February 1939
Decommissioned:22 June 1946
Struck:19 July 1946
Fate:Sold for scrap, 19 May 1947
Sargo was awarded eight battle stars for her service in World War II.

USS Seadragon keel laying cover (cancellation April 18, 1938 at Groton, Conn.)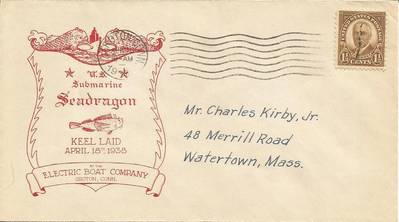 Photo: Edward Lundquist
USS Seadragon (SS-194), a Sargo-class submarine,
Builder:Electric Boat Company, Groton, Connecticut
Laid down:18 April 1938
Launched:21 April 1939
Commissioned:23 October 1939
Decommissioned:15 November 1945
Recommissioned:8 February 1946
Decommissioned:29 October 1946
Struck:30 April 1948
Fate:Sold for scrap, 2 July 1948
Seadragon earned 11 battle stars during World War II.

USS Sealion keel laying cover (cancellation June 30, 1938 aboard USS Skipjack)
USS Sealion (SS-195), a Sargo-class submarine
Builder:General Dynamics Electric Boat, Groton, Connecticut
Laid down:30 June 1938
Launched:25 May 1939
Commissioned:27 November 1939
Fate:Scuttled at Cavite on 25 December 1941 after being damaged by Japanese aircraft on 10 December 1941

• General Dynamics • Massachusetts • Philippines