Cox Marine Expands Distributor Deal With Ring Power
Yachting Journal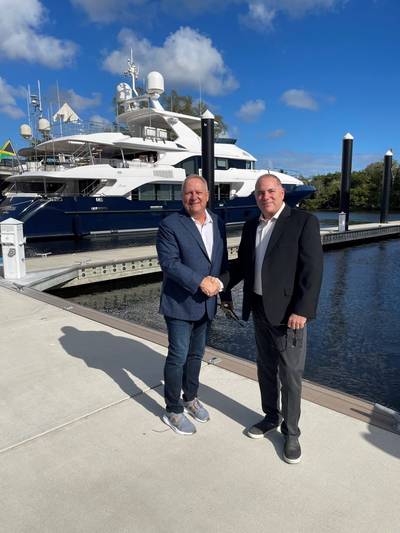 Cox Marine, the manufacturer of the CXO300 diesel outboard engine, announced an expanded contract with U.S.-based distributor and Cox investor, Ring Power, to cover additional regions as the exclusive distributor. The Florida-based company is increasing its territories beyond the state of Florida and the Caribbean to include Georgia, North Carolina, and South Carolina, as well as Bermuda.
Appointed by Cox Marine in 2019, Ring Power has a growing order book and is also hiring a team of qualified technicians and a skilled sales team to support the Cox Marine operation in the region, bolstering their already experienced crew.
Patrick Bucci, General Manager Cox Maine – Ring Power, said, "We have been involved as a distributor and stakeholder for Cox Marine. over the past four years and we are excited to expand the Florida territory into additional Southeast states including Georgia, South Carolina, and North Carolina as well as Bermuda."
Bucci continued, "We have helped the product evolve into a premium and viable outboard solution for both the recreational and commercial markets throughout the U.S. Its appeal targets customers that want additional fuel savings, the added torque that a diesel engine provides and the positive effect that the product has on the environment, as we race toward the need for greener technology. Ring Power is in the immediate process of contributing additional resources to ensure that the new territory is a success for Cox Marine and our organization as we target both boat builder partners and new dealer signings."
"Cox Marine is very pleased to announce Ring Power – Cox Marine has been awarded Georgia, South Carolina, North Carolina, and Bermuda to add to their existing territory of Florida and the Caribbean", as quoted from Doug Ross, Cox Marine's Regional Director for The Americas. Doug Ross added: "Ring Power – Cox Marine General Manager, Pat Bucci, is committed to providing the highest customer service and support levels throughout the South-Eastern United States.
Designed for both commercial and recreational use, the CXO300 diesel outboard is a new generation of diesel technology, offering up to 30% fuel savings, producing 30% fewer CO2 emissions, and 479 lb. ft torque.