Cox Marine Partners with Crossover Boat Manufacturer XO
Yachting Journal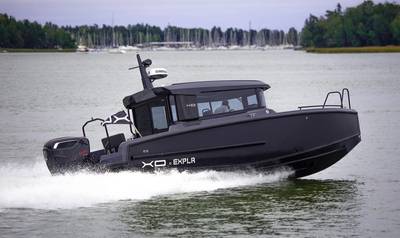 Cox Marine announced a new OEM partnership to supply its CXO300 diesel outboard to European manufacturer XO Boats, which will be supported by Cox Marine's Scandinavian distributor, Diesel Power.
Designed and built in Finland, XO Boats' EXPLR series offers exceptional seakeeping performance through the combination of a military-grade deep-V aluminum hull with a striking Scandinavian design, providing rigidity, durability, and outstanding driving qualities.
The CXO300 will be initially available on the EXPLR 9 model, the 9-meter version of XO's premium weekend cruiser.
Erkki Talvela, XO Boat's CEO, said, "At XO, we are no stranger to innovative design solutions that enhance our customers' experience. Offering the CXO300 diesel outboard widens the potential market for XO as diesel fuel is more widely available in certain areas. The EXPLR 9 is designed for outboard power to achieve top performance and optimum onboard space. Cox's CXO300 offers the best of both worlds, and we are excited to offer it as a choice for our customers."
Harry Heasman, Cox Marine's EMEA Regional Director, added, "At Cox Marine, we are always excited to see customers using and enjoying the benefits of our CXO300, but the alignment with XO Boats is extraordinary because of the similarities in the brand's foundations and ambitions."
"Both brands are committed to going beyond, often looking outside the norm to deliver the customer something uniquely beneficial to their passion, work, or pastime. We are very happy to be able to offer the Cox Marine customer integration with such a versatile and capable boat partner."
Sweden-based Cox Marine distributor Diesel Power, whose territory includes Finland, has been integral in supporting the development of this relationship.
"The partnership between Cox Marine and XO Boats is an incredible asset to our customers. This special relationship means customers can purchase a Cox Marine outboard with their new XO boat, making every step much easier," said Mats Hallberg, Export Sales Manager, Diesel Power AB.
With the agreement in place from the beginning of the 2023 marine season, new XO Boats are now available with the CXO300 diesel outboard from dealers worldwide.