Fusion Launches New Apollo RA670 Stereo
Yachting Journal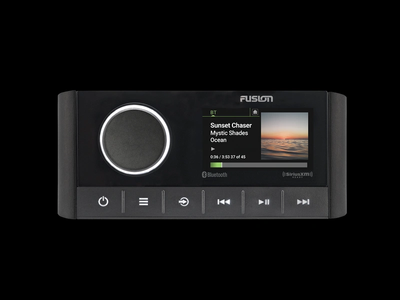 Fusion offers the new Apollo RA670, a marine stereo featuring a brilliant, optically bonded, full-color LCD display, Fusion's Digital Signal Processing (DSP) technology, Fusion-Link integration and control, multi-zone control in up to three audio zones and PartyBus capabilities when connected to a Wi-Fi or Apollo network; the RA670 is a powerful extension of the Apollo Series.
The Apollo Series harnesses the power of Fusion's DSP technology, designed to deliver premium audio to all speakers in any environment. Fusion's system approach ensures every step of the audio chain is optimized through calculations by its audio engineers to deliver a technically superior listening experience – without the need for boat owners to have a technical understanding. Setting up DSP profiles is made simple with the free Fusion-Link app. With just a few clicks, boat owners can set up the pre-configured DSP profile to play high-quality audio, customized for their ears and specific environment. Precisely calculated loudness curves are optimized to ensure quality audio delivered at every volume level, giving quality, full-range sound whether the volume is turned all the way up or down.
Offering more source options, the Apollo RA670 lets users play their favorite soundtrack via Bluetooth, Optical Audio (TV), SiriusXM features (USA only), DAB+ ready (available in Europe and Australia only), AM/FM radio, AUX and USB. When connected to a Wi-Fi or Apollo network, users can finally stream music from a mobile device via Universal Plug and Play (UPnP), providing the highest quality audio streaming available.