Hatteras Yachts Presents New M98 Panacera
Yachting Journal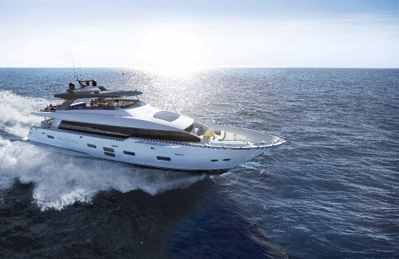 Hatteras | CABO Yachts, iconic American builder of luxury sportfishing yachts and motor yachts, has introduced the new M98 Panacera, the latest addition to its acclaimed line of luxury motor yachts, which also includes the M60, M75 Panacera, M90 Panacera and 105 Raised Pilothouse.
Designed to deliver enhanced performance combined with exceptional volume and amenities for a yacht of its size, the Hatteras M98 Panacera is scheduled to begin construction this winter and is due to launch in the spring of 2021.
"The M98 Panacera was inspired by inquiries from owners looking for a Hatteras Motor Yacht that was a step up from the M90 Panacera, but who didn't need the accommodations of the 105 Raised Pilothouse," said Hatteras | CABO Yachts Chief Product Officer Ward Setzer. "At the same time, they wanted the new boat to be equipped with larger MTU 16V 2600 diesels that would maximize its cruising speed but maintain the legendary ride quality that Hatteras Yachts are known for."
In response to this challenge, Setzer, a veteran yacht and superyacht designer, and his team at Hatteras Yachts worked extensively with current and prospective owners to strike the ideal balance with respect to performance and functionality. The goal was to determine the optimal size for a larger motor yacht that would meet these consumer-driven design parameters. "Ninety-eight feet was the magic number," Setzer said.
The new M98 Panacera, which sleeps eight in four large en suite staterooms, maintains its sister models' sleek, contemporary exterior styling, light-filled interior, and gracious appointments.
Since its initial launch in 2017, the Panacera line has become known as the industry leader in thoughtful use of livable space. In this spirit of design excellence, the M98 offers an optional main-deck VIP suite forward and a spacious flybridge with additional exterior dining and entertaining space. The yacht will be offered in Open Bridge, partially Enclosed Bridge and fully Enclosed Bridge versions.
Another of the new model's many highlights is its Beach Club aft. "It's huge for a yacht of this size," Setzer said, adding, "If the owner prefers, however, this transom area could be used for additional crew quarters or a utility room. It's a very versatile, flexible space."
In addition, the M98 will feature twice as many hull windows as its sistership along with cut-down bulwarks to provide enhanced views of the sea around the yacht. "It's all about connecting with the water," Setzer said, concluding, "All in all, we've optimized the performance, living space, and ergonomics of this all-new yacht, stem to stern."