Heesen Delivers VanTom
Yachting Journal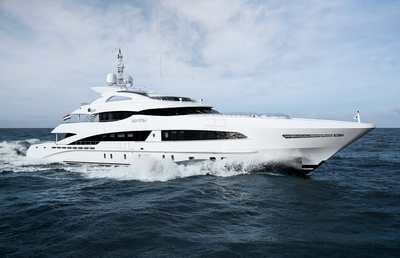 VanTom, the sixth yacht in the popular 50 meter semi-displacement class designed by Frank Laupman at Omega Architects has been delivered.

The delivery took place in international waters on February 14, 2018 after intensive tests in the rough winter waves of the North Sea. The sea trials took place on January 12 and 29 in Beaufort 4 and 6, with North Westerly winds and waves up to one meter.
Captain David Burge comments: "During sea trials, the yacht handled extremely well and gave a very smooth ride, even whilst proceeding at a speed of over 20 knots with a sea running. I am most excited about our maiden voyage down to the Mediterranean Sea and very much look forward to the 2018 summer cruising season."
VanTom exceeded the contractual speed by 0.3 knots, reaching a top speed of 20.3 knots, while at 11 knots she has a transatlantic range of 3,100 nautical miles. With a Gross Tonnage of below the 500GT threshold, VanTom sports a highly efficient hard-chine hull and propulsion system that is both quiet and vibration-free, even at higher speeds.
The Heesen 5000 Aluminium class has proven to be a revolutionary offering. Hinging on a semi-custom platform, the pioneering concept enables clients to have a yacht they can customize that relies on proven design and technology, reducing both client costs and construction times.
VanTom highlights
6th in the 5000 Aluminium class
Exterior by Omega Architects
Interior by Francesco Paszkowski
499GT
20.3 knots top speed
3,100 nautical miles at 11 knots



• Mediterranean • Mediterranean Sea • North Sea