Highfield Named Oyster Yachts CEO
Yachting Journal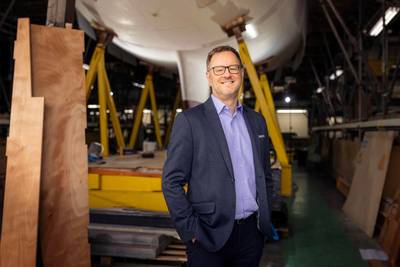 Ashley Highfield has been appointed as the new CEO of Oyster Yachts. Highfield, who was previously Executive Chairman of the British-based luxury boat builder, has been fulfilling the interim CEO role since September 2022 following a reorganization, and was formally offered the role last month.
"I have known Ashley for literally decades, and been hugely impressed by his energy, experience, and vision across a number of businesses. In more recent years, Ashley and I have been closely working together on the successful turnaround of Oyster and growth of its topline revenues and brand. Over the past few months we agreed he should step in to manage the day-to-day operation of the business, during which period he has successfully steered operations, and initiated a number of new management strategies to further improve our growing business. Ashley has a deep understanding of, and buy-in to, our goals as a business, and I am truly delighted that he has accepted the role of Chief Executive Officer," said Richard Hadida, the owner of Oyster Yachts.
Oyster Yachts is now in a great position to capitalize on the considerable investment made by Richard Hadida. The Oyster 495 recently won the prestigious European Yacht of the Year Award, illustrating the growing reputation of the Oyster Yachts marque. A strong order book and full build bays through late 2024 and into 2025 indicate the investment strategy is bearing fruit.
"It has been an honor for me to serve as Chair of this great British company for the past five years, and really get to know the team, Oyster's unique strengths, and the enormous opportunities for the business. Now, as its new CEO, I look forward to working with our impressive leadership team and our 600-strong highly skilled and talented workforce based in Southampton, Norfolk, Palma, and the U.S.," comments Highfield.
"We have a very clear vision for Oyster, and we will continue to deliver the very best, British-built, luxury cruising yachts in the world while ensuring that we run a sustainable and profitable business."
Highfield will be replaced as Chair of the Oyster Yachts board by Richard Hadida. "One could say that this is the ultimate job swap, as Richard was previously CEO. This new structure will give Richard the opportunity to concentrate on new product development and the future range of our yachts, while I will concentrate full-time on this new CEO role, building on the excellent work of the past four years, with this next phase in Oyster Yachts' voyage" concludes Highfield.
Highfield has been at the helm of some of Britain's best known brands. During his eight years at the BBC as main Board Director for New Media and Technology, he was responsible for, amongst other things, the development and launch of BBCiPlayer and the growth of BBC Online. He then spent some seven years as CEO at Johnston Press, owners of The Scotsman, the Yorkshire Post and the Portsmouth News amongst some 250 other titles, during which tenure he bought the i newspaper, before joining the Oyster board in 2018. He has served on the boards of organisations as diverse as See Tickets, British Film Institute, and William Hill plc, is a non-executive Director to the Eden Project, a qualified Chartered Engineer as well as Fellow of several organizations, including the Royal Television Society. He has sailed extensively in the Caribbean and Mediterranean and would love one day to do the Oyster World Rally – though with a 15-month old son, and a 14 year old daughter - that dream may be a little way off!