Hoek's New Design: 76ft Chase Boat
Yachting Journal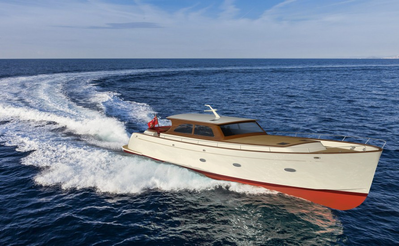 Presently under construction is a new concept by Hoek Design. This chase boat is unique and designed around several purposes the yacht needs to fulfil.
At 76 feet overall length she is not a small yacht and meant to:
transport guests from shore to mother ship
serve as a diving platform that goes into small lagoons and shallow areas where people can comfortably go in and out of the water using a large swim platform in the stern that forms steps underwater when deployed.
be able to hold extra stores onboard, with a large freezer area.
accommodate extra crew or guests in the three cabins onboard the yacht.
One of the key tasks of this vessel is to get guests and owner from ashore to the yacht in comfort and without having to sit in a tender under a sprayhood. The boat had to have a Pacific range meaning she is able to be powered by engines underway for 750 miles at cruising speed. The boat is designed with two 925 hp SCANIA engines to drive fixed propellers for a cruising speed of 15 knots and a top speed of 25 knots.

The yacht is under construction at Claasen Shipyards in the Netherlands and this is the 27th project that Hoek Design and Claasen have collaborated on. The aluminium hull is being built in the Netherlands and fit out, technical installations and all joinery work will be done at Claasen. The yacht will be built to superyacht standards as far as finish, styling, details and technical installations are concerned.

The main dimensions of the yacht are as follows:
LOA: 23,4 m.
Beam: 6,6 m.
Speed: 25 knot

• Netherlands • Scania