Hurricane Announces New SunDeck 2600 Design
Yachting Journal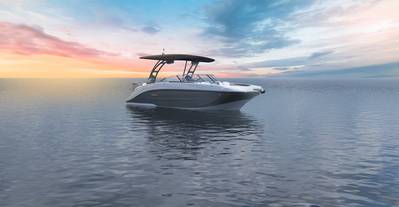 Hurricane deck boats announced the launch of a new hull for model year 2023: the SunDeck 2600. The SunDeck 2600 outboard deck boat offers boaters a spacious design, and a safe and stable platform with the power and performance for an exhilarating time on the water.
Built for adventure seekers, the SunDeck 2600 is quick to plane and provides an extremely comfortable ride. It has plenty of room for passengers to spread out with lounge seating, bow and stern boarding ladders and an enclosed head with sink for extended cruising. Optional features include power assisted steering for maximum maneuverability and an integrated anchor davit for easy anchoring. For tow sports enthusiasts, the added space of the large hull has trunk storage for any gear, even an inflatable tube or foam mat. To improve accessibility, the power-actuated tower can be lowered down to keep the vessel clearance level with the deck.
"One of the largest deck boats in the Hurricane line up, our new SunDeck 2600 offers the smoothest and most comfortable ride there is," said Lori Szczypiorski, product manager, Hurricane Boats. "The versatility of this boat is unmatched, whether you are interested in tow sports, fishing or a leisurely cruise. There is plenty of seating and storage for any gear you need, and the head is a nice touch for maximum comfort. We are pleased to launch the SunDeck 2600 and are confident it will give our customers incredible memories that last a lifetime."
The SunDeck 2600 has an overall length of 26-feet, 5-inches and an 8-foot, 6-inch beam providing plenty of capability for all on-water pursuits. Able to accommodate a maximum horsepower rating of 400 HP, the 66-gallon fuel tank gives cruisers exceptional range.