Ingenity Partners with Lumitec on the Fully Electric 23E
Yachting Journal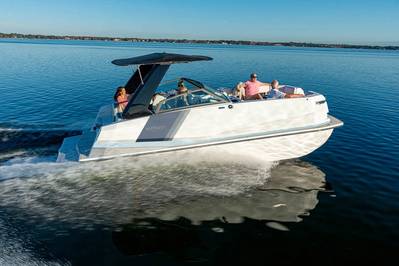 Ingenity, a division of Watershed Innovation, founded by Correct Craft in 2018 to develop and incubate new technologies, is partnering with Lumitec to supply the primary lighting for its fully electric 23E production model.
Launched at this year's Miami International Boat Show and winner of an innovation award the Ingenity 23 Electric is a zero emissions, 100% fully electric day boat. Based on Ingenity's patent-pending modular "skateboard" platform the 23E uses forward-facing sterndrive propulsion to optimize safety, performance, and low-speed maneuverability. The boat is designed for luxury, comfort, and stability and can cruise up to 14 hours at low speed with its 126 kWh range package, with a top speed of 30 mph. The absence of above deck drive components at the transom opens the boat floorplan. Seamless integrated steering and throttle control combined with an intuitive user interface on the touchscreen make operating the 23E simple and approachable. Standard on-board telematics brings remote charging and location monitoring to your phone via the Ingenity Connect app while also enabling over-the-air updates.
Sean Marrero President of Ingenity stated, "I am incredibly proud of what our team has done with the 23E. At Ingenity, we enable our customers to do what they love in ways that better reflect their values. With the 23E, we can now take the knowledge we have about electric boating and apply it to the larger group of people who prefer being on the water instead of in the water."
The decision to go with a Lumitec lighting package for the 23E was based primarily on the quality, efficiency, and overall diversity of the Lumitec product range.
"We chose Lumitec because there is a very wide array of products we can use, we did not have to source different parts as it all comes in the same configuration and is easy to integrate into our system" said Miks Cinis, Ingenity International Business Development Manager.
"Lumitec is proud to be able to work with Ingenity on their new 23E electric day boat. Ingenity's development of a fully integrated and connected electric boat pushes the limits of what is available in the marine market today and is a great example of the type of integration possible with Lumitec's latest energy efficient and digitally controllable lighting solutions." commented Chris Fulmer President of Lumitec. "Lumitec prides itself on 14 years of innovation in lighting research and design and is dedicated to the mission of offering the best solutions for electric vessels as this market expands."
In addition to its products for the maritime industry, Lumitec also brings the power of Clarience Technologies to its partnership with Ingenity International. Established in 2020, Clarience Technologies is a company designed to thrive in the future of transportation. Its team of companies includes other leading brands in transportation like Truck-Lite, RIGID, DAVCO and Road Ready advanced telematics.
One year ago, Clarience Technologies announced the companies-wide initiative A2Z for eMobility which focuses on leveraging individual brands' expertise and Clarience Technologies capabilities to create solutions for electric vehicles from "A to Z." Low amp draw lighting, active response technologies, components connectivity and electronics manufacturing are all hallmarks of the initiative, underpinned by the global support and collaborative innovation woven throughout all Clarience Technologies brands.