IPYS Partners with Armstrong Marine and EagleCraft
Yachting Journal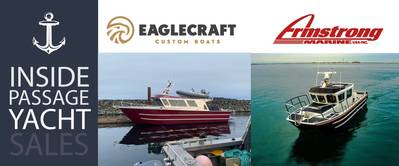 Armstrong Marine USA announced a new partnership with Inside Passage Yacht Sales (IPYS) and EagleCraft. This partnership will connect boaters in the Puget Sound to Armstrong's signature recreational catamarans and EagleCraft's premium cruiser collection. IPYS will apply its sales service to represent the two portfolios, which range from 29' to 43'.
The partnership gives IPYS buyers access to the best of EagleCraft and Armstrong Marine's recreational lineup, bringing both brands to more people, in more places, in new ways.
"Partnering with IPYS allows us to deliver our premium catamarans with confidence that our future owners are in the right hands to have an exceptional experience, allowing us to conceive, design, and build the next generation of aluminum catamarans," said Perry Knudson, Managing Director, Armstrong Marine. "Together we will generate more excitement about Armstrong catamarans, a product specialized for the extreme marine environments in the Pacific Northwest. Inside Passage Yacht Sales will have inside access and will place our future owners on the path of success for their new vessel purchase."
Armstrong Marine is known for being 'First in Catamarans.' Their recreational CATs are born from a strong workboat and research vessel history. IPYS will be featuring five of Armstrong's signature catamarans, ranging from 29' to 35'.
"The IPYS, EagleCraft and Armstrong Marine partnership is a powerful combination. Armstrong and EagleCraft bring their naval engineering expertise, premium aluminum vessels and both employ a collaborative approach which compliments the IPYS mindset," said Brian Krantz, Inside Passage Yacht Sales. "We believe in bringing the best of premium luxury yachts to our target market. Armstrong and EagleCraft are an obvious choice to help get our owners into the boat of their dreams."