Kymeta Launches Flat Panel Antenna on OneWeb's LEO Network
Yachting Journal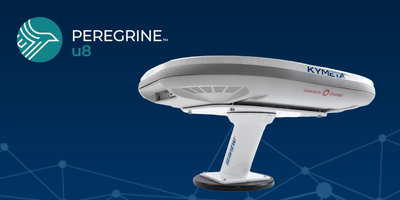 Flat panel satellite antenna company Kymeta and low Earth orbit (LEO) satellite communications company OneWeb announced that Kymeta's electronically steered Peregrine u8 LEO terminal is now commercially available, becoming the first flat panel antenna to serve the maritime market on OneWeb's LEO network.
Kymeta launched its maritime product line in 2017, and its streamlined Peregrine u8 LEO terminal is purpose-built for maritime applications. According to Kymeta, the slim, energy-efficient Peregrine u8 requires no specialized installation equipment and can be installed onboard by just two people within hours, rather than days.
By tapping into OneWeb's enterprise-grade connectivity, all large vessels – from superyachts to commercial fishing and shipping vessels – can now connect easily and seamlessly at sea as they would on land.
"Our maritime customers have a unique set of needs, whether that be reliable cyber-security and access to real-time maintenance or connecting to the cloud and streaming their favorite show. That's why we've made it our mission to develop an equally unique solution," said Walter Berger, President and Co-CEO, Kymeta. "As a proud partner of OneWeb, today marks an exciting day for Kymeta because it represents the fulfillment of our joint commitment to bring to market a low-power, low-profile LEO terminal, built to elevate and modernize maritime communications."
Carole Plessy, VP Maritime and Europe at OneWeb added, "By harnessing the power of our constellation of LEO satellites, the Peregrine u8 from Kymeta will enable mobile connectivity at sea, on multiple devices in the same way as the home network in your living room. We are thrilled by today's milestone in our partnership with Kymeta, as it's proof of our collective leadership in advancement of the satellite industry and an acknowledgement that connectivity should be readily accessible, regardless of where you are or where you're going."