A Look Inside A North German Showroom for Superyachts
Yachting Journal
The Bremen district of Vegesack enjoys an excellent reputation as the North German Superyacht Valley on the banks of the River Weser. A reputation that extends far beyond the world-famous shipyards of Lürssen and Abeking & Rasmussen. In fact, many other well-known companies in the industry are also contributing to the high-profile international standing of the area, including the renowned design studio beiderbeck designs, which has its head office here. This is now undergoing expansion with a new and exclusive showroom for megayacht equipment.
In a studio on the third floor of the old dockside warehouse of Vegesack, eight selected companies are presenting their brands and exhibiting their products. These include Siebensee, the FBB Group, Oliver Treutlein (OT), Marinepool and Crystal Caviar, together with Riviera Yacht Service, Incidence Sails and, of course, beiderbeck designs.
"We want to give owners, their representatives and the shipyards, an opportunity to view as many aspects of the equipment as possible, brought together in a single location, and allow them to make a pre-selection", explain initiators Tim Ulrich and Immo Lüdeling from beiderbeck designs. On the one hand the pooled presentation saves time, because decision makers need not visit each company separately, while on the other, diverse materials and colours can be matched on the spot, for example. This process is supported by cutting edge communication technology that facilitates HD video conferencing between providers and clients.
One key reason for locating the Siebensee brand in the new showroom is that clients aren't only shown glossy brochures, but are able to experience first-hand the quality, seat comfort and design, according to Manuel Del Colombo, Managing Director of upholstery manufacturer Finkeldei Interieurs. Finkeldei produces exclusive furniture for use on deck in a joint venture with Stükerjürgen Aerospace Composites. "We feel we are in very good hands in the beiderbeck designs ambience, because the experience and design variety there play a key role in daily operations", says Del Colombo.
High quality and sustainable products, along with tailored and personalized solutions in the accessories and lifestyle sector, are the credo of the FBB Group. "As part of this exceptional network of shipyards, designers, manufacturers and interior fitters we are able to target the best possible service more directly at our clients", says Alexandre Sébastian Burlet, Managing Director of the growth-oriented family company. For over 30 years FBB has been general agent, importer and trading partner for exclusive yacht equipment such as La Table Hermès Paris, Saint-Louis and Puiforcat.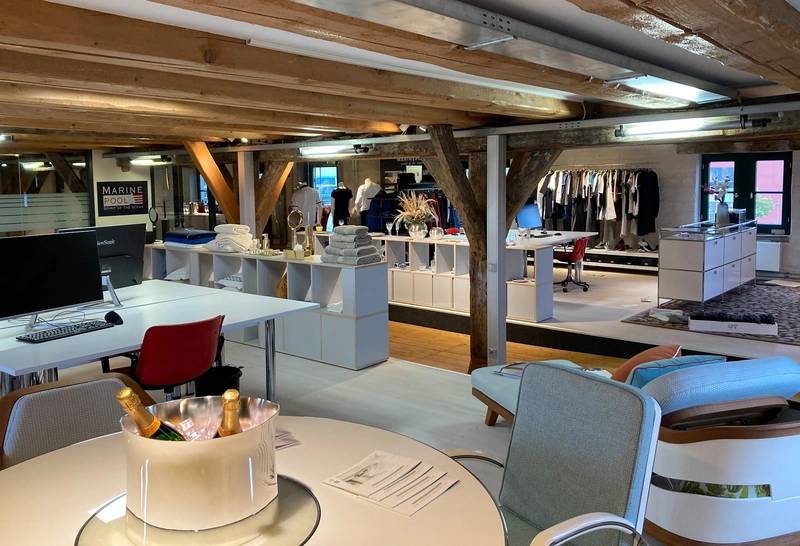 ©beiderbeck designs
Oliver Treutlein can be considered a carpet enthusiast since as far back as 1985. He weaves his own designs by hand using pure silk, cool linen or New Zealand virgin wool, but also creates unique carpets from man-made fibers or cotton. In the saloon of a large yacht the soul and spirit of the owner and his guests are touched and inspired by the beauty and creative richness of true works of art. In the region surrounding Düsseldorf carpet making is a tradition that stretches back for over 100 years. But cutting edge technologies and materials are also used, for example where the floor or wall carpet must be non-combustible or antistatic to comply with safety requirements. Oliver Treutlein: "We fit well with beiderbeck designs, because at both owner-managed companies every employee grows together with the projects and highly personalised attention is top priority."
"Presenting Bohemian crystal art from Vlastimil Beranek, Jan Frydrych, Jaroslav Prosek and Michaela Smrcek at the Bremen Centre of Yachtbuilding and Refits is as obvious as it is self-evident", is how company founder and Managing Director Marek Landa explains the participation of Crystal Caviar in the showroom. The origin of the company, which was founded ten years ago, stretches back to 1995, when Landa worked overseas aboard luxurious megayachts. Today, his chandeliers and sculptures, decorated mirrors, wall lighting and transparent handles – and more – are at-home in the superyacht scene.
The partnership between Marinepool and beiderbeck designs has already been evident over recent years through joint exhibition appearances and events. "We are connected by the balance between timeless elegance and the hallmarks of modernity", is how Marinepool boss Robert Stark describes the companies' shared values. The brand has been synonymous with sailing apparel, the maritime lifestyle and rescue aids for almost 30 years. In more recent times greater emphasis has been placed on the crew clothing and corporate wear segments. Accordingly, the move to the Weser was a logical consequence for Stark: "At the Vegesack location in Bremen we want to get closer to the superyacht project decision makers."
As a specialist yacht agency, Riviera Yacht Support seeks solutions and delivers them – right down to the smallest detail. Customers' wishes are organised and implemented, from breathtaking on-board events through to arranging visa and customs formalities. The company already operates alongside beiderbeck designs in Antibes in southern France.
High-tech sailmaker Incidence Sails has a manufacturing operation in France, where it uses its own membranes, and has already been present at the old dockside warehouse in the Vegesack district of Bremen for the past ten years. Albert Schweizer, the highly experienced representative for Northern Europe and all of the German-speaking countries, looks back on a range of joint projects with beiderbeck designs. As a sailmaker and active sailor, who is equally at home aboard megayachts and smaller keelboats, he welcomes the pooling of know-how in the showroom: "An unparalleled competence centre for equipping superyachts is being created and we are contributing our design and project planning expertise for the rigs and sails of new-builds and refits."
After opening its second registered office on the Côte d'Azur at the beginning of 2018, beiderbeck designs' showroom is now taking a significant step towards networking German and international providers with their clients. "At the same time, protecting the privacy of all of our clients is our highest priority", promise Tim Ulrich and Immo Lüdeling, in harmony with the other partners. Ten years after reforming, the naval architects and engineers at beiderbeck designs have distinguished themselves as a leading European design office for megayachts. To-date almost 250 projects worldwide speak for themselves – from futuristic tenders right through to a myriad of newbuilds and conversions in the >100 m yacht class.