Lord Iliffe Presents Sail Training Awards
Yachting Journal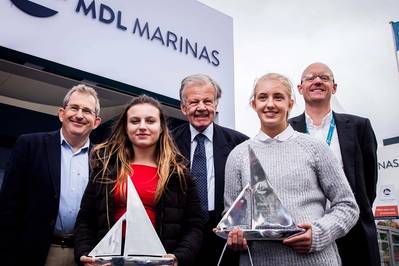 Mia Brackley and Elizabeth Bland are the recipients of MDL Marinas 2018 Sail Training Awards presented at TheYachtMarket.com Southampton Boat Show.
Presented in conjunction with Ocean Youth Trust South, MDL's Sail Training Awards are designed to recognize, reward and challenge young people who have shown exceptional accomplishments and qualities which have inspired or supported others.
Mia Brackley and Elizabeth Bland were given the awards as recognition of their accomplishments while at sea. They spent five nights and six days living and sailing on board OYT South's 30-meter vessel Prolific and were involved in all aspects of life on board, including hoisting sails, helping with maintenance, sailing the boat at night and cooking and cleaning with the rest of the crew. The voyage departed from and returned to MDL's Ocean Village Marina in April 2018. Also on board were Emily Godson, Carla Green, Hayden Knight and Shailyse Saunders.
The presentation was made on MDL Marinas waterside stand at TheYachtMarket.com Southampton Boat Show.
MDL Marinas has run its Sail Training Awards for over 30 years. Ocean Youth Trust South is a charity which uses Adventure Under Sail as a personal development opportunity for young people aged 12-25.