Luxury Sailing Ship to be Powered by Ingeteam Electrical Equipment
Yachting Journal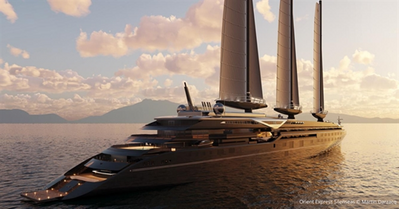 The French shipyard Chantiers de Atlantique has selected Ingeteam to provide the electric propulsion for the luxury sailing ship Orient Express Silenseas.
The ship has solid sails which make it the largest sailing ship in the world. It is one of two vessels that will emulate the famous Orient Express train, enabling more ecological and sustainable navigation via the latest marine technology.
The ships belong to Accor Group under the Orient Express brand, and Ingeteam will supply two motors to drive the main propulsion plus the three transverse thrusters, together with the frequency converters for all of them. It will also develop two propulsion remote controls, to enable maximum propulsion management and efficiency with SolidSail technology developed by Chantiers de lÁtlantique.
The converters will include a ground connection to the port so that the vessels can be connected to the shore power grid whilst moored and thereby avoid having to run auxiliary combustion engines to power hotel services.
Orient Express Silenseas will depart in 2026 and be fully or significantly powered by the winds depending on weather conditions. Three rigid sails with a surface area of 1,500 square meters each will be hoisted on a balestron rig, with three tilting masts reaching more than 100 meters high, able to ensure up to 100% of the propulsion in suitable weather conditions.
The hybrid propulsion formula will combine wind power with an engine running on LNG, and the company plans to use green hydrogen once the technology is approved for ocean passenger ships.
When the vessel cannot set its sails due to lack of wind, the electric propulsion supplied by Ingeteam will come into operation. Thus, the ship will be able to continue sailing without polluting and maintaining maximum comfort through low vibration and noise.
The ship will be 220 metres long and will feature 50 suites, including a 900 square meter Presidential Suite, two swimming pools, two restaurants and a speakeasy bar.