C-MAP: East Coast Charts Now Shipping
Yachting Journal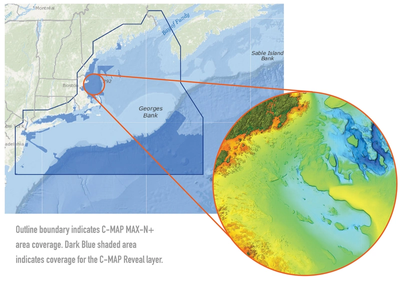 C-MAP said its C-MAP Reveal charts for the East Coast are now shipping.
C-MAP Reveal cartography offers all the navigation data and capability of a C-MAP MAX-N+ card, plus ultra high-resolution bathymetric (HRB) imagery of the sea floor, including a clear view of structure, wrecks, isolated reefs and ledges in between the contour lines.
The C-MAP Reveal imagery replaces shaded-relief data in select areas with more accurate depth variations, allowing it to reveal the best fishing and diving spots. Complete with vector data, these detailed charts include C-MAP HRB coastal data, Genesis layer social map data and satellite imagery that can be overlaid directly on top of the charts. C-MAP Reveal is available for use on Lowrance, Simrad or B&G chartplotters.
C-MAP Reveal charts covering the Gulf of Mexico started shipping in April. West Coast Reveal charts are scheduled to start shipping at the end of July.
C-MAP Reveal charts are priced at $299 USD.