Marco Santoro Takes Over as CEO at RMK Merrill-Stevens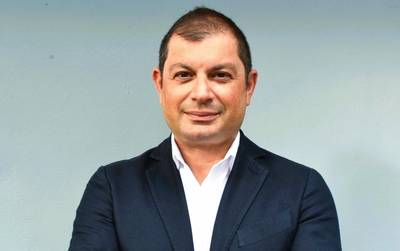 Industry veteran Marco Santoro has taken the helm as chief executive officer at Miami yacht repair yard RMK Merrill-Stevens.
A naval architect and marine engineer, Santoro began his career in yachting as part of the technical department at Italy's Rodriquez Yachts. In 2003, he joined Italian yacht builder the Ferretti Group as an intern in the after sales and service department, and over the course of 20 years worked his way up through a number of leadership roles, culminating as the company's vice president of refit and retail works. "My journey in this company was amazing. I had the opportunity to cover growing roles and responsibility, working with clients and colleagues from all around the world, and in every single corner of the world."
In January, Santoro took over as CEO at RMK Merrill-Stevens, a full-service shipyard dedicated to the refit and repair of boats, yachts, superyachts and mega yachts, as well as a steady and growing stream of commercial vessels. With dual state-of-the-art shipyards on both sides of the Miami River, RMK Merrill-Stevens is equipped to handle diverse projects ranging from major refits and repair to rebuilds and reconfigurations, including reengineering and repowering, for vessels up to 250 feet long and up to 50 wide.
Founded in in 1866, RMK Merrill-Stevens is Florida's oldest shipyard, but in recent years it has undergone a transformation, with numerous upgrades to its South Yard, including a new parts department and workspaces, as well as construction of the North Yard, complete with a 2,700-ton Pearlson shiplift.
"This company has an incredible heritage, being one of the most historical shipyards in the U.S.A., but also one of the most technologically advanced and modern shipyards. . . The capability and opportunity alike are what brought me to RMK Merrill-Stevens. We have the best location in one of the most desirable places for boat lovers," Santoro said, noting that the yard's yachting work has increased dramatically over the past few years.
Asked about his top goals in the new role, Santoro said his primary objective is to enhance the customer experience. "I know our industry very well and understand that each client is an asset for our company. My main goal is to enhance our clients' journey. This means to be able to listen to our clients' needs and expectations, and deliver to them the highest quality experience," he said. "If we are capable of doing so, we will retain our customers who will became also our best ambassadors."
In addition to expanding the sales division of RMK Merrill-Stevens' brokerage house Merrill Stevens Yachts, the new CEO said he also aims to bolster and invigorate the RMK Merrill-Stevens workforce. "We are strengthening our team and the way we operate. I love working with people, and my workplace is my second home. I believe in creating an environment where people love to come to work and collaborate. Building a strong team will allow us to drive this company to its top potential."