Marlink Providing Network Solutions for Quark Expeditions
Yachting Journal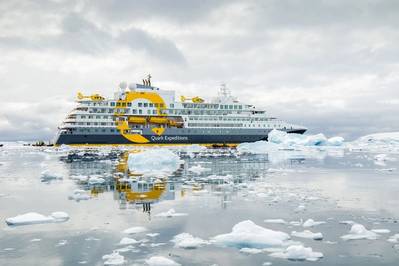 Marlink has provided high throughput hybrid network solutions for Quark Expeditions' MV Ultramarine since the start of the 2021 Arctic season. After the first full year with the service, the operater said it found that guests and staff on Ultramarine enjoyed continuous, high-quality connectivity despite the high latitudes and harsh operational environment.
While Quark Expeditions has operated a fleet of chartered vessels and icebreakers for more than 30 years, Ultramarine is Quark's first fully owned newbuild and is the newest ship in its fleet. Ultramarine began its first full season of operations in October 2021. The 199-guest vessel is equipped with a pair of twin-engine helicopters, 20 quick-launch Zodiacs, spacious suites, wellness amenities and numerous outdoor wildlife viewing spaces.
Marlink has provided a hybrid solution, including dual C-/Ku- Band and Ka-band VSAT with dual L-band back-up over LEO and GEO constellations and 4G/LTE connectivity with global roaming, to maximize passengers experience onboard.
Marlink will further extend connectivity options on Ultramarine in spring 2023 when the vessel will trial the new Starlink LEO service, bringing faster throughput, lower latency services in a combination with guaranteed VSAT bandwidth to meet crew and passenger needs and extend access to more cloud-based applications.
Traffic is managed using software-defined routing (SD-WAN) which automatically selects the most efficient connection channel for data transmission, streamlining and securing the process for passengers, crew and business communications alike.