Meet Her "Excellence" – A New Megayacht
Yachting Journal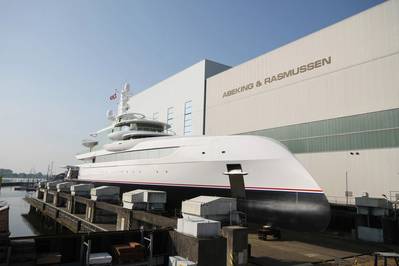 Abeking & Rasmussen this morning launched a brand new member of their family, a vessel with stylish curves drawn by the re-known studio Winch Design.
"We are very proud of this extraordinary yacht and our exceptional workforce, who mastered all requirements bravely. Never before have glass panels been installed in these dimensions. The unusual lines also repeatedly presented employees with major challenges. Now we have developed and successfully finished this masterpiece and can hardly wait for the sea trials," said Hans Schaedla, CEO, Abeking & Rasmussen.
The team at Winch Design have dreamt up a superstructure so unique that she promises to be unlike anything that has ever come before. Her striking and angular reverse bow cuts assertively through the ocean waters, offering a silhouette comparable to a spaceship.
"Excellence represents a huge milestone. A completely unique superstructure, she signifies an innovative and exciting new genre for Winch Design," said Andrew Winch, Winch Design.
Her exterior lines draw the eye up to the bridge and owner's decks which are surrounded on all sides by curved floor-to-ceiling mirrored glass. The experienced in-house engineering team of Abeking & Rasmussen has succeeded in installing these glass panels without disturbing this unique view through disruptive structures. Providing the perfect opportunity for indulgent relaxation, she features a swimming pool and platform, as well as jacuzzi and sprawling beach club and impressive limousine tenders.
Sea trials along the river Weser and out on the North Sea will commence shortly while the outfitting program of the yacht continues to ensure that her "Excellence" will be delivered to her Owner in summer 2019.