MGBW Workers Complete In-house Welding Program
Yachting Journal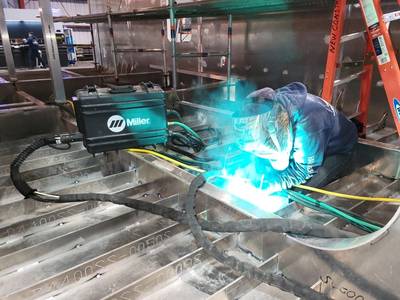 Marine Group Boat Works (MGBW), a family-owned boat repair and construction facility, is pleased to announce that 30 of its boatbuilders recently graduated from MGBW's in-house Welding Certification Program. The Welding Program was launched in 2021 with support from a Small Shipyards Grant awarded by the U.S. Department of Transportation Maritime Administration (MARAD). In total, $859,250 was spent to develop the curriculum, secure an instructor, equip the welding classroom and sustain the vital program with a cost share of 67% covered by the grant with the remaining expenses covered by MGBW.
Welding Department Supervisor Kenny Swanson took pride in overseeing the program. "On-the-job training can be more beneficial than traditional schooling. I'm seeing firsthand how this program has sharpened our welders' skillsets while instilling greater confidence in their boatbuilding and repair capabilities."
In San Diego, there is a demand for trade schools with less than a handful of programs offering welding specific programs. San Diego community colleges and trade schools have created a pathway for a younger generation to familiarize themselves with blue collar work. As the older generation starts to retire, these programs— including MGBW's—provide the opportunity for a new work force to come in and learn a high paying skilled trade at a young age. On average, the starting salary for welders in San Diego is $44,000, which according to the Center for Excellence for Labor Market Research, is just above the $38,000 living wage for San Diego.
"The college path to becoming a lawyer or a doctor is not for everyone. You can make a living wage and excellent medical benefits with the maritime industry straight out of high school," said Swanson. "You just need to be willing to show up on time, work hard and have a positive attitude."
Furthermore, the maritime industry is made up of companies like MGBW that provide superior health benefits and compensation package. In 2022, Marine Group spent close to $2 million in employee healthcare with an average spending of $12,000 per employee to keep insurance and out-of-pocket expenses low for its employees. Not only that, but it has also provided a 20% match in 401K programs for more than ten years and spends an average of $900,000 each year on employee morale and incentive programs which provides OSHA-approved safety boots, lunches, celebrations, bonuses and rewards to its employees.
The welding program offered several certifications, all of which were in accordance with American Bureau of Shipping (ABS) and Naval Sea Systems (NAVSEA) welding certification standards for TIG and MIG welding of 5XXX, 6XXX groups of aluminum, and steel FCAW.
More than 30 employees enrolled in the welding program were able to certify or re-certify for welder certifications. In addition, 22 employees that held entry level positions including welder helpers and fire-watchers have now been promoted to certified welders.
"There has been a shortage of qualified, skilled welders in the maritime industry for years now. The only solution was taking matters into our own hands, and thankfully, we have a Maritime Administration that supports small businesses that provides subsidies for apprenticeship training programs like this," said Todd Roberts, president of MGBW. "This welding training program has allowed us to empower from within and equip our existing team with skills and certifications that they can take anywhere."
With the same grant, MGBW was also able to purchase new electric air compressors which allows the production employees to operate a variety of equipment such as handheld tools as grinders, sanders, wrenches, needle scalers and shears. The air compressors provide an increased volume of compressed air using less electricity and eliminate the need to rent additional diesel-powered compressors, thereby allowing the yard to get closer to achieving its zero-emissions goals.