Naut Debuts Electric Demonstrator Boat Beachcomber
Yachting Journal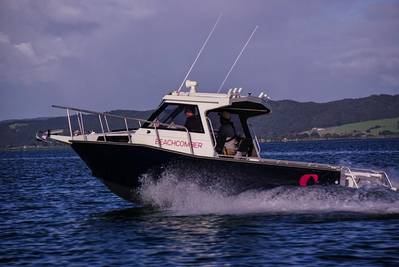 Marine electric propulsion company Naut has launched its second demonstrator vessel, Beachcomber, marking another step closer to the delivery and production of fully electric propulsion products for the recreational marine sector.
The 7m aluminum power boat comfortably reaches planing speed, with a top speed of 28 knots. The 150hp electric system possesses enough power to easily plane and handle all sea conditions the boat was originally designed for. The battery and propulsion system can power the vessel at a range of speeds for 3-4 hours.
The boat will accommodate overnight charging, from a standard home power point. The team are continuing to make improvements to the propulsion system, and these, as well as the latest developments in boat design will further improve duration and range.
Beachcomber has been vital to the product development team at Naut as they work toward finalizing the design for the range of products Naut will offer, including an electric outboard. With the boat exceeding expectations in terms of speed and power, the team are confident that Naut's first commercially available product will meet the needs of New Zealand boaters.
"Nothing beats the moment when you reach planing speed on a sea trial, with the sound of the ocean and the silent hum of the electric motor in the background. It's all about the experience for us at Naut and that is something we want to replicate for other New Zealanders who love their boats as much as we do. Beachcomber's success proves that electric propulsion for recreational vessels is not only a viable option, but arguably a better one. You're dealing with much lower noise, no smoke or vibration, no crazy fuel costs, and the welcoming idea that you are doing your bit to reduce your carbon footprint," said Naut Product Development Manager, Cees van Egmond.
Following the successful testing of Beachcomber, the team are now finalizing the design for the Naut products, particularly the electric outboard, as well as the electrical system that can be used to power the Naut outboard, or alternative drive line options such as stern drive or jets. These electric outboards are expected to be ready for purchase in 2023, while the electrical system to power alternative drives are now available for order.