New Agreement Training Cruise and Yachting Professionals
Yachting Journal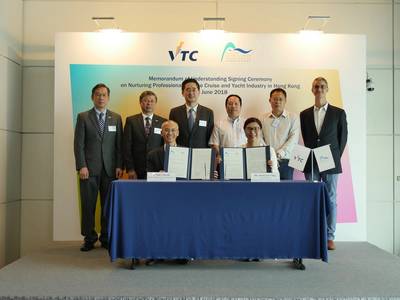 In view of the growing demand for talent in the fast-expanding global cruise and yacht industry, Hong Kong Cruise & Yacht Industry Association (HKCYIA) and the Vocational Training Council (VTC) signed a Memorandum of Understanding (MoU) for nurturing professionals for the industry.
Dr. Liu, VTC Deputy Executive Director, said that VTC is keen to provide flexible study pathways and promote lifelong learning so as to equip people in pursuing further career development and advancement. In line with the government's direction to develop Hong Kong as a premier maritime services hub in the region and to meet the industry's needs, VTC would partner with Hong Kong Cruise & Yacht Industry Association to groom a new generation of professionals.
Kara Yeung, HKCYIA Executive Director, said "The Hong Kong Section of the Guangzhou-Shenzhen-Hong Kong Express Rail Link and the Hong Kong-Zhuhai-Macau Bridge are expected to help boost cruise and yacht travels as well as economic development. The collaboration between HKCYIA and VTC is aimed at advancing the long-term development of the Hong Kong cruise and yacht industry through promoting youth training for careers in the industry."
With a view to equip students with the requisite knowledge and skills for a successful career in the cruise and yacht industry, the collaboration would enable students to explore the different pathways for further advancements in the sector.