New Grand Banks Motor Yacht Completes Sea Trials
Maritime Propulsion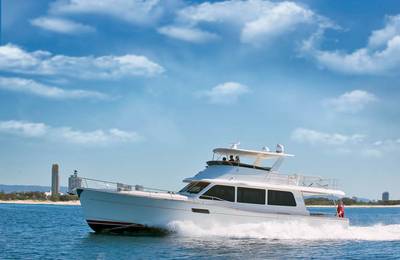 Caterpillar Marine has announced the successful sea trial of the Grand Banks Yachts, Ltd. GB60-03 which is powered by a pair of Cat C12.9 supercharged and turbocharged diesel engines. GB60-03 has a length of 65' (19.9m), a beam of 19' (5.85m) and a draft of 4' (1.4m). During the successful sea trial, GB60-03 achieved a top speed of 33 knots.


The common rail C12.9's installed in GB60-03 are capable of delivering 1000mhp@2300rpm while meeting EPA Tier 3, IMO II, EU Stage IIIA and RCD emission requirements. The C12.9 propulsion engine has an electronically controlled supercharger that allows for excellent torque and throttle response at low speeds while maintaining fuel efficiency at high speeds. The common rail system provides quiet, controllable fuel delivery allowing for more complete combustion thus lowering fuel consumption and smoke.


In addition to supplying the engines, Cat dealer Tractors Singapore Ltd. also supplied a pair of 7" Cat Marine Displays for the salon and a pair of 7" Cat Marine Displays at the flybridge.


"The new GB60 features a beautiful design with a ride that easily surpasses any yacht of its size on the water today," states Mr. YP Wong, engineering director for Grand Banks Yachts, Ltd. "This completely new yacht pays homage to classic Grand Banks styling, with a special focus on performance and fuel consumption, wide-open entertaining areas, and supremely comfortable furnishings. The GB60 is Grand Banks' first foray into our new standard of fully infused carbon fiber construction, resulting in a low center of gravity, inherent form stability at all speeds, and multiple advantages in strength, rigidity, weight and performance.


The next Grand Banks Motor Yacht, GB60-04 will also be powered by a pair of Cat C12.9 engines with commissioning seal trial to take place in the first quarter of 2018.

• Caterpillar • Environmental Protection Agency • Grand Banks Yachts Ltd.