New Safety and Security Training for Superyachts
Yachting Journal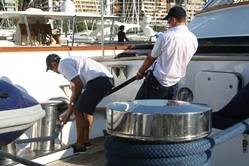 Two Training Programs by Videotel -- "Safety on Superyachts" and "Maritime Security Awareness" -- are Targeted to Superyacht Owners and Crew to Meet a Wide Range of Maritime Regulations

KVH Industries, Inc., introduced the "Safety on Superyachts" and "Maritime Security Awareness" training programs by Videotel at the Fort Lauderdale International Boat Show today to address the multitude of regulations facing this growing sector of the maritime industry. Videotel, the leader in maritime e-Learning and a KVH company, has produced the training programs with a specific focus for superyacht captains, crew, owners and ancillary personnel.

Superyachts traveling in international waters must comply with aspects of the Maritime Labor Convention (MLC-2006), the Standards of Training, Certification, and Watchkeeping (STCW), International Ship and Port Facility Security Code (ISPS), and Safety of Life at Sea (SOLAS). These requirements have prompted experts to refer to this as an era of heightened regulations for superyachts.

"Superyachts require fully certified crews for maritime operation and all those serving onboard must comply with regulations and be aware of their responsibilities," explained Nigel Cleave, CEO of Videotel. "Our 'Safety on Superyachts' series covers essential topics to provide a comprehensive guide to safe operations on these unique and exciting, but often highly complex, vessels. Our 'Maritime Security Awareness' program provides a basic understanding of maritime security for seafarers of all ranks to increase their awareness of potential security threats."

Videotel's "Maritime Security Awareness" training course covers security issues that superyachts may encounter when alongside a dock or other vessel, at anchor and at sea. Subject matter includes threats, plans of action and communication during a security threat. The course is presented as one overview program, and it enables superyacht crew of all levels to meet the minimum standard of competence in security awareness according to the STCW code updates that went into effect earlier this year.

The "Safety on Superyachts" series addresses a wider range of topics important to the operation of superyachts, and is an in-depth presentation, divided into four distinct training programs:
"Crew Familiarization and Safety Awareness" covers the important safety procedures and yacht layout information that new crew must have within 48 hours of arriving onboard.
"Effective Drills" presents fire and emergency drills including man overboard, muster stations, and lifeboat drills.
"Safe Working Practices" provides guidelines for passenger care and leisure craft operations.
"Guest Familiarization" gives instructions on how best to brief guests about the safety procedures of the vessel.
Videotel's training courses are available in many formats and platforms, including video, computer-based training and interactive e-Learning programs via its flagship Videotel on Demand (VOD) and Networked Videotel on Demand (NVOD) products. In addition, Videotel's new courses and upgrades are available via multicasting delivery through TRAININGlink, part of KVH's IP-MobileCast content delivery solution for the mini-VSAT Broadbandsm network. IP-MobileCast brings news, entertainment, training, and operations content to superyachts utilizing KVH's mini-VSAT Broadband network and TracPhone V-IP series satellite communications antenna systems.

In addition to an extensive portfolio of training films, Videotel's platform also includes recording and reporting management software that enables companies to monitor and track training of their crews using cloud-based technology.


• KVH Industries Inc. • Videotel • E-Learning