New Vessel Design: FIM Unveils the 470 Regina
Yachting Journal
An open design to make the most of outdoor spaces thanks to the Bow Life concept is the hallmark of the Italian shipyard FIM's 470 Regina, which is currently under construction with world premieres expected at Cannes and Genova.
The aft of the boat has folding balconies and a splittable solarium, delivering a spacious central area and great accessibility and liveability. In additino, the stern bathing platform is equipped with a lifting system that will facilitate the launching and towing of a tender or a jet ski.
According to FIM, the 470 Regina's bow contains the true gem of the versatility concept that enhances outdoor spaces: the lounge solarium can be split in two and moved to the sides, creating a beach area. The designers renamed this unique configuration coniating the term Bow Life.
This steppable area can be used in a variety of ways: with the possibility of filling it with seawater to create a small pool, or adding a removable table to convert it into an additional dining area. It also ensures natural lighting in the front cabin, which is situated beneath the reinforced glass.
This model, like its predecessor, 340 Regina, thas been designed by Paolo Ferragni, owner of Ferragni Progetti, and it's totally customizable: customers can choose from many different materials, accessories, colors, and motorizations.
---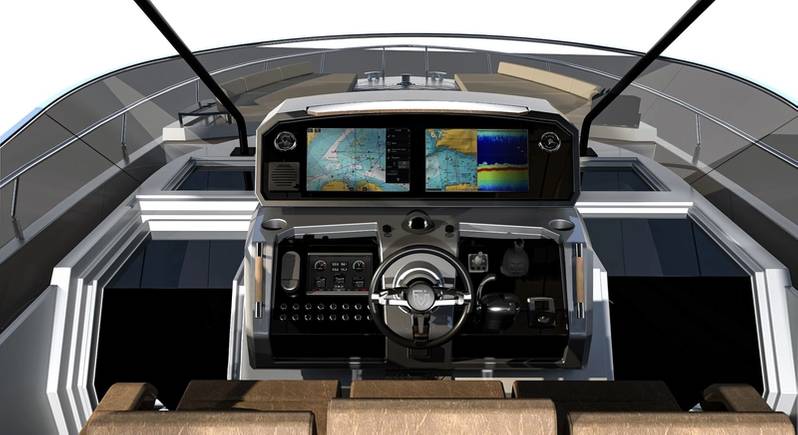 Image courtesy Fabbrica Italiana Motoscafi (FIM)
---
The 470 Regina is available with two Volvo Penta IPS 650 or IPS 800, reaching a maximum speed of 39 knots. All the domotics systems and onboard instrumentations are signed by Raymarine.
Vannis Marchi, FIM partner and co-founder of the Italian fashion company Liu-Jo, was involved in the project and made an important contribution in terms of stylistic and aesthetic choices. There are many high-end accessories in this 15m open: Artemide lamps in the interior, stern retractable
cleats, telescopic carbon fiber poles for the bow awning, luxury wallpaper upholstery.
The sofa and pouf are made by a leading furniture maker situated in the Brianza area, Made in Italy luxury furniture district, an area where the furniture culture finds its roots and is handed down from generations. In addition to all of this, the steering wheel is totally unique and not available on the market: the mold of the steering wheel has been built exclusively for this special model, featured only on the 470 Regina.
The standard interior layout features two luxury spacious master cabins of 2.15m height. Each cabin has its own private toilet and shower. The forward owners' cabin includes a versatile area that can be configured, according to the owners' needs, into an office, bar or vanity console. For customers who plan to spend the night on board with several guests, a three-cabin configuration is also available.
The hull #001 of the 470 Regina is currently under construction and features 2 Volvo Penta IPS 800. The outboard version, equipped with 3 or 4 Yamaha 425 hp, will be specially conceived for the USA market.
---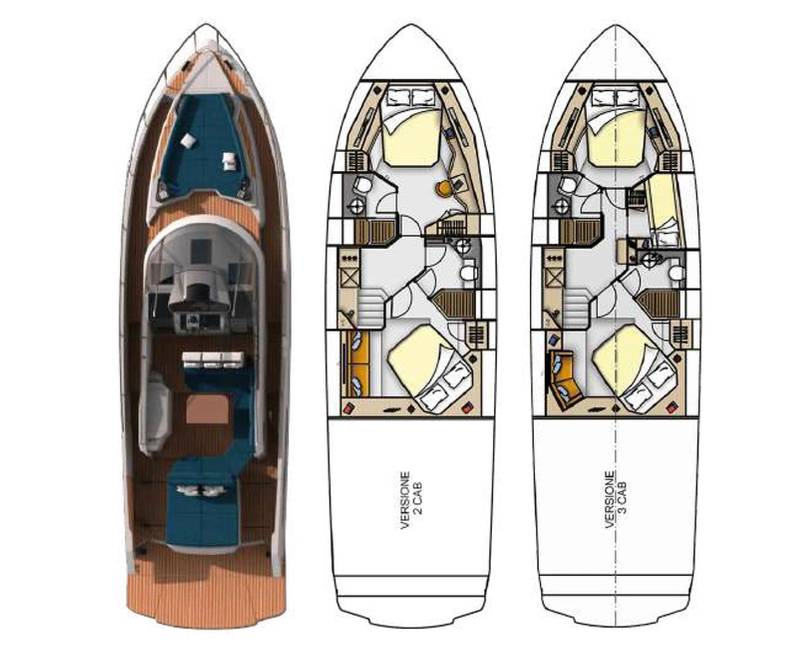 Image courtesy Fabbrica Italiana Motoscafi (FIM)Specifications of the Regina 470
LOA: 15,10 m
Beam: 4,40 m
Draft: 1.10 m
Weight: 15500 kg
Max capacity: 14 passenger
Fuel tank: 2x770 l
Fresh water tank: 300 l
Max. speed: 39 knots
CE Category: B
Project: Ferragni Progetti