Nidec ASI Supplies Power Management for Megayacht
Yachting Journal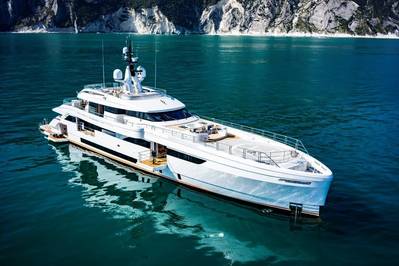 Nidec ASI - head of the Nidec Industrial Solutions platform belonging to the Nidec Group - leaders in the field of solutions for energy management in the nautical sector, has taken another important step forward in support of more sustainable navigation.
The company has developed and installed the innovative Power Management System on the mega yacht Wider 165, optimizing power management on the vessel and distributing it between the staterooms, propulsive system and recharging of batteries.
Thanks to the advanced solutions installed by Nidec ASI, the Wider 165 is able to navigate in an eco-friendly manner, using power stored in its on-board batteries, reducing the consumption of fuel and emissions and making it possible to use all the on-board systems without needing to start the engines.
The yacht can cruise in "Zero Emission Mode" (ZEM) for over 4 hours at a speed of 5 knots without producing any emissions of gas in the air or other substances in the water, guaranteeing safe, sustainable navigation. Indeed, thanks to the electric propulsion, the yacht can enter protected areas that would otherwise be impossible to reach in a vessel using traditional propulsions that would generate emissions harmful to the marine flora and fauna.
Thanks to the technologies installed and supplied by Nidec ASI, the yacht is equipped with innovative functions that enable it to offer superior comfort to its passengers, but without ever neglecting the necessary respect and attention for the environment. In particular:
The "Fast Charger" mode recharges the batteries quickly by means of the on-board generators developed to ensure, at the same time, sufficient power to maintain electrical propulsion at cruising speed.
The "Zero Emission" mode enables the yacht to operate exclusively on battery power, or to rest at anchor in total silence with the diesel generators off, ensuring power to all the utilities on board for prolonged period such as, for example, during the night, or at anchor in the harbor.
The "Boost" mode serves to maximize performance by using both sources of power on board, i.e. the power provided by the diesel generators as well as that of the batteries.
The "Low Power" mode, in case of malfunction of the electric propulsion system; this can be controlled by two electrical motors with separate double winding, each driven by an independent inverter. In case of breakdown of one of the windings or one of the inverters associated with it, the propulsion motor can function equally at half power, thanks to the intrinsic redundancy of the system.



Comfort is certainly one of the elements receiving the maximum consideration in designing the Wider 165. Thus, after applying every possible measure to ensure excellent soundproofing, the power system's "Zero Emission Mode" makes it possible not only to cruise in respect of the marine ecosystem, but also in total silence. As an experience, it is difficult to imagine, offering results never achieved before with a vessel of this kind.

"This important project confirms our commitment to supporting innovation in an increasingly green viewpoint in the nautical sector, strategic for the promotion of more sustainable mobility. Thanks to the significant experience we have acquired in the realization of many contracts, in the first place with regard to overhauling the Italian Navy's school ship "Amerigo Vespucci", combined with consolidated experience in the development of advanced solutions for the storage and management of the power supply, we are able to offer custom solutions for safe, eco-friendly navigation everywhere in the world, reducing emissions to a minimum and lowering the impact on the marine ecosystem," observed Dominique Llonch, CEO of Nidec ASI and Chairman of Nidec Industrial Solutions. "Wider 165 and its twin Wider 150 are a great source of pride for me, because they illustrate the adaptability of our solutions, which have applications not only for ships and ferries, but also for vessels with unique technical needs and assemblies."

More specifically, Nidec ASI has supplied: Common DC bus architecture, Inverters for generators of current (4 x 350kW), Inverters for main propulsion (2 x 531kW), Inverters and transformers for board grid 230V & 400V/Harbor grid, Battery management (544kWh), Power Management System (PMS, HMI & remote control), Water cooled drive modules.



• energy management • Italian Navy • onboard systems