Nova Luxe Yachts Launches First Boat, Reports Performance
Yachting Journal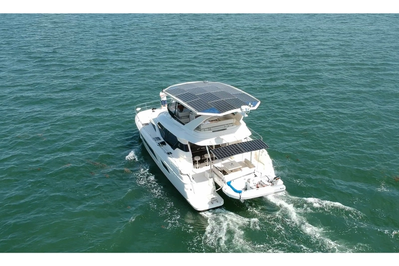 Nova Luxe Yachts recently launched its first boat and conducted sea trials at the Westshore Yacht Club in Tampa, Florida.
Surrounded by media and prospective yacht buyers and brokers, the all-electric Nova Luxe 44 luxury power catamaran surpassed performance expectations and thoroughly impressed all who stepped aboard.
Built using an Aquila hull, the spacious Nova Luxe 44 is powered by proven 50kW 1,400 rpm Torqeedo Deep Blue motors matched with high-capacity BMW i3 lithium batteries, a substantial rooftop solar array and small backup generator. In a four-hour run, the vessel cruised at 6 knots against a light breeze and current using only 25kw of energy per hour. Aside from the obvious fuel savings when compared to the standard twin diesel engine Aquila 44, the Nova Luxe 44's carbon footprint is practically insignificant.
Many boatbuilders such as Aquila don't offer an environmentally friendly model. As an officially licensed Torqeedo reseller, Nova Luxe Yachts functions as the project manager in converting 35'–50' power catamarans to all-electric. It takes Aspen Power, Bavaria, Fountaine Pajot, Havana, Leopard Catamarans and Maine Cat Catamarans and develops the propulsion and energy systems to produce a vessel of virtually unlimited range and uncompromising comfort. When the owner takes the helm, it's of a yacht that has no equal within the marketplace or any harbor.