Phase 1 Grand Opening for Bowleys Marina
Yachting Journal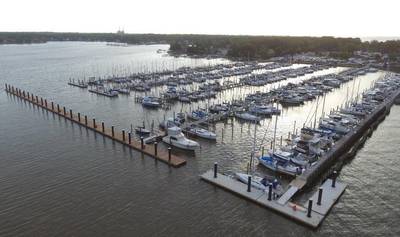 Bowleys Marina has announced the Grand Opening of Phase 1 of its docks rebuild project.

The members and Board of Directors of Bowleys Marina has announced the Grand Opening of the $3.2M improvement of the pier facility, on August 24 at 4:30. Many Local officials and associated organizations that assisted with the construction will attend as well. The ribbon cutting ceremony will be held at the marina waterfront at 4:30 on the 24th. This project is the largest re-build effort in the marina history. The main construction consists of the building of the new floating F pier, which is not only providing wave attenuation and protection for the marina, but new dockage for large transient yachts traveling on the ICW. F pier also includes a new fuel pier with high volume dispensing systems and the required electrical power for large yachts. Additionally, the new construction includes new floating T head dockage at the end of D and E piers and floating concrete wave attenuation on A pier. This project is Phase 1 of the construction. Future construction is planned for E pier and the rest of the piers in the marina as well.
Background of Bowleys
The marina was originally constructed in the 1950's. There are 500 slips available at the mania including fixed, floating and boat lifts. Bowley is a full-service marina and considered a family friendly resort style marina offering many amenities to members. The amenities including a clubhouse, pool, playground, recreations and picnicking areas. Boaters like Bowleys since its only minutes from the bay and because of its peaceful country setting.