Plymouth Yacht Haven Open Day
Yachting Journal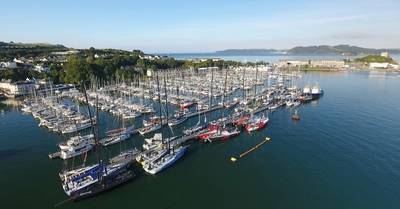 Plymouth Yacht Haven's 3rd annual Open Day will see the 5 Gold Anchor Marina open its doors to sailors and non-sailors alike on Saturday, May 5.

With the sailing season upon us, all are welcome to this free event to learn more about the boating world and look around a range of brand new, classic and historic boats. Furthermore, with boating and equipment demonstrations throughout the day, organisers are hopeful that they will inspire a new wave of boaters into the sport.

"We have an enormous playground in the form of Plymouth Sound and the waters around Devon & Cornwall", explains Marina Manager Steve Kitchen. "We hope that by opening the marina to showcase the range of marine businesses we have here, we'll be able to demonstrate why Plymouth is the place to open up a world of leisure time opportunities, whether it be boat ownership, tuition, repairs and maintenance, safety at sea, or just messing about on the water.

The Marina Open Day, on Saturday 5th May, has free entry with exhibitors including "Bounty's End", the open boat featured in the recent epic TV series recreating Captain Bligh's famous voyage after the Mutiny on the Bounty, RNLI lifejacket checks, Mount Batten Watersports Centre, the National Marine Aquarium, Surf simulator and Bouncy castle, Winching competition, and a car Display by local dealer Vospers.

Plymouth Yacht Haven is part of Yacht Havens Group, which owns and operates various other sites in Plymouth including Turnchapel Wharf and Yacht Haven Quay Dry Stack Marina. The Yacht Haven is home to more than 450 resident boats and welcomes thousands of visiting boats every year from around the world, and has hosted the last 3 editions of the world famous Fastnet Race.