Princecraft Launches Innovative Boat Models
Yachting Journal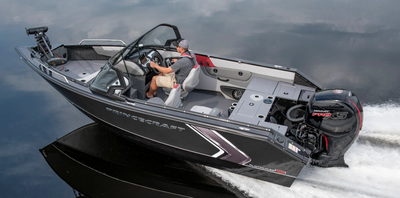 Princecraft boats has announced the global launch of the all-new Platinum SE series premium fishing boat and the Vectra/Sportfisher pontoon series for model year 2020.
Both categories have helped to redefine and expand the Princecraft brand beyond Quebec, giving the company the opportunity to continue its growth. Both the Vectra/Sportfisher and the Platinum SE have been in high demand with Princecraft dealers and customers as they offer the versatility, world-class quality and contemporary new styling that Princecraft customers have come to expect from the brand.
"Both the Platinum SE series and the Vectra/Sportfisher pontoon series are setting a new benchmark in our portfolio, allowing our customers to experience the very best that Princecraft has to offer," said Rodier Grondin, Princecraft President. "During our recent dealer meeting, we made a commitment to our customers to continue to innovate and introduce new products that have more content and are more advanced than the products they replace. With both of these categories, we are confident that we will be able to continue to grow the brand beyond Canada."
Platinum SE Series
If you love to fish, welcome to your dream boat! Full of features, super comfortable, with luxury finishes and plenty of storage space - this standout Series was designed to make your days on the water simply perfect. Princecraft is the only boat manufacturer that offers full vinyl on the cockpit, stern and bow platform in all its series.
With three new revamped models available, the Platinum SE 227, Platinum SE 207 and Platinum SE 186, boaters will have three options to select from based on their fishing and boating needs.
Among the many highlights of the new Platinum SE Series include:
Heated driver seat and docking lights
In-floor lockable rod organizer for rods
PrinceTrak system built-in into the gunnel
New windshield style and frame
SIMRAD Go7 multifunction touch screen with VesselView Link allowing instrumentation display, GPS functions, sonar, and downscan imaging
200-watt AM/FM/Bluetooth SonicHub2 Radio including an in-dash USB plug
Rear casting platform now covered with vinyl with an integrated privacy enclosure with an optional head
Vectra/Sportfisher
The most popular of the Princecraft pontoon portfolio, the Vectra/Sportfisher series now boasts 15 different models including two brand new models, the Sportfisher 21-2RS and the Vectra 21 RL. These models are known for their high performance – creating the ultimate boating experience for the customer at the perfect price.
Some of the many highlights on the new Vectra/Sportisher models include:
Complete exterior look reviewed and offered in 3 colors.
2 optional Classic Edition package to customize your boat
New fishing station for Sportfisher (4S and 2RS): more convenient and more room to fish at the stern of the boat
New ski tow bar to get more water access
Standard raised rails
Optional foldable safety railing for RL models to enjoy the swimming platform at maximum
Stainless steel ladder now standard