Repeat Success: Long-Range Catamaran
Yachting Journal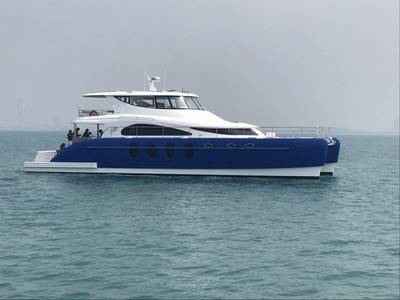 When word spreads of a good design well executed, the reward for the boat builder is a customer who says, "Make me one just like that other one."
That is where the discussion starts and then come the clients requests for modifications. Such was the case when a high-level surfer from the western shore of Java approached James Dewing at his yard in Thailand. James had delivered one of his Powerplay catamarans to a customer in Tahiti in December of 2019. Now, the word was spreading for a true long-range luxury power catamaran.
This wasn't Dewing's first boat, he has been building his Powerplay catamarans and his reputation for years in Australia, China and more recently Thailand. The Powerplay twin hulled craft is 20 by 8.2-meter overall. The new boat, Nave, is one foot longer. The greater modifications were in the interior. Dewing is not anxious to change anything significant on the proven hull design, but he has multiple computer-generated models of possible cabin arrangements. Starting with these he works with clients to meet their unique layout of the broad spaces afforded by a catamaran.
The most recently delivered boat will serve surf boarders and is designed to provide expansive salon areas for surfers to lounge between adventures on their boards. A large swim-deck aft, with overhead crane, provides easy access from the water as well as stowage space for the Waverider jet-ski and RIB.
For propulsion power, Dewing and his client chose to go with exactly the same package as the original Powerplay. "We are using the same 600-hp, Cummins QSC 8.3 diesels which are a remarkable quiet engine, delivering all the power we need," explains Dewing, "With the 27 x 29.5-inch, five-blade props she is smooth and graceful. I'm very satisfied with the performance results and sensible economy."
That performance, 25.7 knots on sea trials (220 liters per hour at 3000 RPM) with a very economical cruising speed of 10.5-knots (38-liters per hour at 1600 RPM) is provided by the QSC8.3 super quiet and smooth-running engines. Builder Dewing explains, "What is most important is the liters-per-nautical-mile. At a very comfortable cruise-speed at 13 Knots, we have a very sweet 4.8 L/nm and a range of 1600 Nm without the use of long range tanks."
On her arrival off the coast of Sumatra, the Nave, will set a new standard of comfort, good looks, and high performance.