Rolls-Royce Showcases New Yacht Engine at FLIBS
Yachting Journal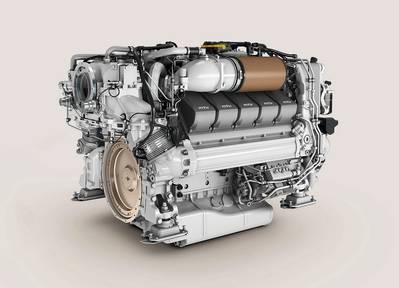 Rolls-Royce will be marketing the 10-cylinder version of its advanced MTU Series 2000 M96L yacht engine at the 2016 Fort Lauderdale International Boat Show from Nov. 3 to 7 . A 12-cylinder version of the engine will be showcased at MTU's booth (engine tent 1212/1215). Also on display will be MTU's Blue Vision New Generation ship automation with integrated Joystick System, which will allow visitors to steer a virtual yacht in a simulation. The MTU brand is part of Rolls-Royce Power Systems.
MTU's 10V Series 2000 M96L is capable of delivering 1,361 to 1,600 bhp and also meets the requirements of the EPA Tier 3 emissions standard for recreational craft. The engine features enhanced acceleration characteristics, quiet operation and low fuel consumption. The 12-cylinder and 16-cylinder versions offer power ranges from 1700 to 1920 bhp and 2185 to 2600 bhp respectively.
The new Series 2000 M96 generation continues MTU's long tradition of building high-performance yacht engines that are reliable and efficient. Since first being launched 20 years ago, 16,000 Series 2000 marine engines have been sold. Thanks to their marine specific design and compact dimensions, they offer an exceptional power-to-weight ratio and continue to rank among the most cutting-edge yacht propulsion systems.
Also on display at MTU's booth will be its Joystick System, which is available as an option and can be fully integrated into the Blue Vision New Generation automation system. Especially designed for yachts, it offers the following benefits:
Intuitive maneuverability – complex maneuvers are made more convenient by automatically and cleverly managing all the propulsion and thruster systems.
Thruster Compatibility – suitable for a wide range of electronic or hydraulic OEM-supplied thruster units; with proportional control capability and joystick operating mode for thruster-only control.
StationHold – holds the vessel automatically on station using a sophisticated GPS-based system.
• Environmental Protection Agency • Fort Lauderdale International Boat Show • Rolls-Royce