Russian Businessman Loses Appeal Against UK Over Detained Superyacht
Yachting Journal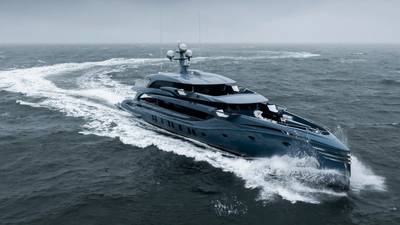 A wealthy Russian businessman on Friday lost a legal challenge against Britain over the detention of his $50 million superyacht.
Sergei Naumenko's 58.5 metre yacht Phi was detained in London under the government's Russian sanctions in March 2022, the first time the regulations had been used to detain a ship.
Naumenko, who owns the yacht through a St Kitts and Nevis-registered company, took legal action against Britain's Department of Transport (DfT), arguing the vessel was detained for an improper purpose.
Then-Transport Secretary Grant Shapps had posed in front of the yacht when it was detained and described Naumenko, who is not subject to British sanctions, as a "friend" of Russian President Vladimir Putin, which Naumenko denies.
The DfT justified the yacht's detention on the grounds that it was intended to put pressure on rich Russians following the invasion of Ukraine, which Naumenko's lawyers argued was unfair.
He said he was targeted simply because he was a wealthy Russian, despite the fact that he had no involvement in Russian politics or any connection with Putin.
However, his case was dismissed by London's High Court on Friday, with Judge Ross Cranston rejecting Naumenko's case that the yacht was detained for an improper purpose.
The yacht was lawfully detained because it was "a high value ship ... and its owner, Mr Naumenko, was 'connected with' Russia", the judge said in a written ruling.
Cranston accepted Shapps was wrong to describe Naumenko as a friend of Putin, but said it was "excusable political hyperbole".
Naumenko's lawyer Paul Dickie said in a statement that the Phi's owner was disappointed by the decision and is considering filing an appeal.
A DfT spokesperson welcomed the ruling, saying: "We'll continue to act where necessary to crack down on those benefiting from Putin's regime and their illegal war in Ukraine."
(Reuters - Reporting by Sam Tobin; editing by Philippa Fletcher)