Sanctuary Cove $8m Marina Upgrade Completed
Yachting Journal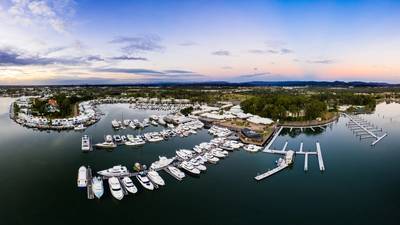 Sanctuary Cove announced the completion of stage one of its multi-million dollar marina upgrade, featuring three new piers, with one dedicated to Superyachts alone.
Following an investment of over $8 million dollars, recreational vessel berth holders will experience 6-star marina facilities sand Sanctuary Cove's premier lifestyle destination creating an unparalleled marine experience, with G and H piers now open for private berthing and I pier to follow next month.
The expansion will increase marina capacity to allow an additional 66 vessels to call Sanctuary Cove's marina home, including Superyacht berthing, dedicated berths for leading marine heavyweights Princess Yachts and Horizon Motor Yachts and a vast array of options for private berth holders.
Marina General Manager, Steve Sammes said the marina expansion project was driven by industry demand for quality facilities and berthing services for vessels 60ft and over "Sanctuary Cove has been recognized as an idyllic boating and lifestyle destination for more than three decades and we are excited to continue to raise the bar for our visitors to The Marine Village, combining premier shopping and dining options with high quality marina facilities.We've already seen strong interest from interstate vessel owners across Sydney, Melbourne and Canberra particularly due to the high quality of our service offering," he said.
"Some of our berthed yachts make their way to the northern hemisphere and back and this redevelopment ensures that the Sanctuary Cove Marina will offer facilities that rival some of the best recreational marinas in the world."
With the Gold Coast marine industry growing rapidly, Sanctuary Cove will continue to deliver the very best in marina and lifestyle facilities, integrating boating with premier waterfront restaurants, retail and leisure facilities.
The marina redevelopment includes new design facilities for berth holders and permanent tenants, allowing door- to-marina services with concrete decks also wide enough to hold a golf buggy.

Photo: Sanctuary Cove

Uniquely positioned to bring together the best of boating and lifestyle, the marina expansion will also see Superyachts, larger than 164ft in length, call Sanctuary Cove home within the dedicated J Pier.
Horizon Motor Yachts Director, Mark Western said the marina redevelopment positions Sanctuary Cove at the forefront of the marine industry.

"It means that we can present our vessels in a showroom style, under lighting and the protection of the marina, these added elements really make Sanctuary Cove Marina a mecca for vessel sales in Australia," he said.

Princess Yachts Dealer Principal, Greg Haines said the new facilities at Sanctuary Cove are a game changer.

"A key part of our decision to call Sanctuary Cove home was the marina upgrade. It's a great position for our brand and means that we can showcase new and brokerage boats all in one location, with up to 10 boats at a time.

"Our customers who berth in the marina can now dock in their private berth and have their golf buggy waiting on the deck so that they can drive straight to their favourite restaurant or retailer".

Private berth holder, Drew Sellick said the revitalized marina will ensure longstanding private berth holders receive a more expansive service offering, enhancing the boating experience.

"I've been privately berthing my vessels at Sanctuary Cove Marina since 2008, and the marina expansion has only cemented that my fourth boat would also call Sanctuary Cove home," he said.

"The lifestyle on offer at Sanctuary Cove is a huge drawcard for me and with the entire experience being enhanced, it made sense that my fourth Horizon Motor Yacht would also spend time in the marina."

New berth holders will also have the luxury of enjoying Sanctuary Cove's new, signature Platinum Membership within rental costs, including access to the InterContinental Sanctuary Cove Resort's lagoon pool, as well as room and food and beverage discounts, Country Club membership, complimentary games of golf each year, exclusive discounts within The Marine Village and more.



• Australia • Gold Coast • Sanctuary Cove