Sea Cloud's New Tall Ship is Taking Shape
Yachting Journal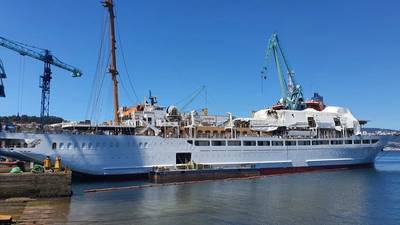 Sea Cloud Cruises' third tall ship, Sea Cloud Spirit, is taking shape in Vigo, Spain. Interior outfitting is underway as specialists from the Polish shipbuilding company Chorén have erected the approximately 54-meter-high aft mast for the 138-meter-long, three-masted sailing ship due to enter service later this year.
Raising the aft mast is an important prerequisite for the completion of the Sea Cloud Spirit, says Daniel Schäfer, Managing Director of Hamburg-based Sea Cloud Cruises The mizzenmast not only carries the sails, but also contains the exhaust system for the Sea Cloud Spirit's engine. "As soon as the shrouds and stays are attached and the mast is aligned, we can start testing the engine," Schäfer explains.
One by one, the three masts, already fully equipped with shrouds and stays, are now being erected, which will later carry the total sail area of almost 4,100 square metres. The rigging was designed by the office of the Polish yacht designer Zygmunt Chorén, who is one of very few specialists who still masters the art of windjammer construction. He has designed the world's fastest and most elegant tall ships, such as the German three-mast barque Alexander von Humboldt, the Polish full-rigged ship Dar Mlodziezy and her Russian sister Mir.
The 136-passenger Sea Cloud Spirit will be the third ship in the Sea Cloud Cruises fleet, joining four-masted flagship Sea Cloud, built in 1931, and the Sea Cloud II, which entered service in 2001. The new ship will offer a diverse mix of itineraries from Europe, North and South America.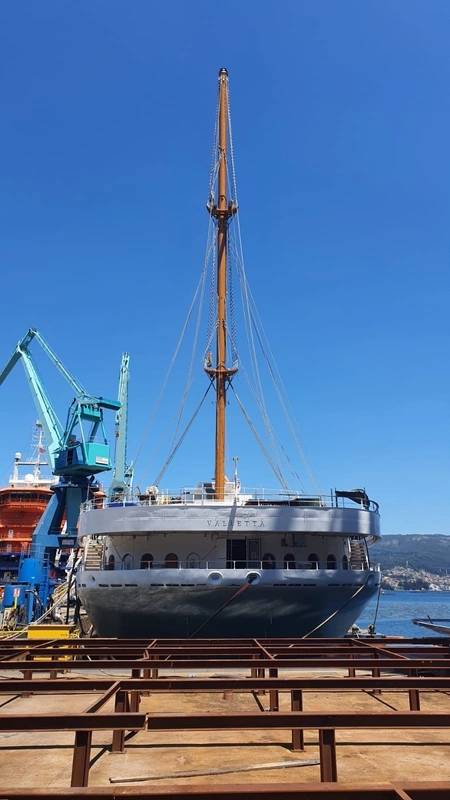 (Photo: Sea Cloud Cruises)