Sperry Marine, Telemar Yachting Team on Superyacht Nav Systems
Yachting Journal
Sperry Marine and Telemar Yachting have collaborated on bridge systems for some of the world's most advanced superyachts. A notable rerference is the 54-metre MLR, which has completed a successful first year of voyages with no downtime to its bridge systems, according to Sperry Marine.
Built by Delta Marine Industries Inc. in Seattle, MLR features a complete Sperry Marine VisionMaster integrated bridge system comprising TotalWatch, dual ECDIS, X-band and S Band radar, Sperry Speedlog and Navigat compass systems.
The bridge interface is a glass console, designed and installed by Telemar. Some 10 years ago Telemar began a partnership with Avionics company Pariani, based in Milan, to create a state of the art integrated bridge. The resulting, 'Just In Touch' technology provides navigators with a touch-sensitive bridge interface powered by Sperry Marine technology.
"Every superyacht bridge is bespoke, no two are the same," said Andy Gifford, Telemar Yachting. "For MLR, we worked with the boat's master to identify the set-up that would work for the owner's requirements. Based on his experience with many bridge systems, he identified Sperry Marine as having the most complete offering."
Pariani created 3-D renderings for the designers and thanks to its compact footprint, the VisionMaster system was able to meet the demanding requirements for space and heat constraints and the system was installed successfully to class and flag approval.
An unusual feature of MLR is a back-of-bridge that serves as a leisure area for the owner and his family, with a multi-media entertainment screen that can be transformed into a voyage planning station for the navigators.
The evolution of superyacht bridge design has been driven by increasing requests from designers for Type Approved systems that combine a very strong aesthetic quality with high levels of safety and reliability. Telemar identified the opportunity to combine Sperry Marine's technology, trusted by navies and merchant shipping world-wide, with its know-how and the unique Pariani design.
"The combination of the Sperry Marine system with Telemar Glass Bridge has been so successful because it has enabled us to combine the aesthetic quality demanded by the owner with the right focus on safety," adds Paolo Tagliapietra, Telemar. "Superyachts of this size are ocean-going, so safety is the priority and a Type Approved bridge system like this provides the look and feel that owners demand but also the redundancy and backup the boat needs."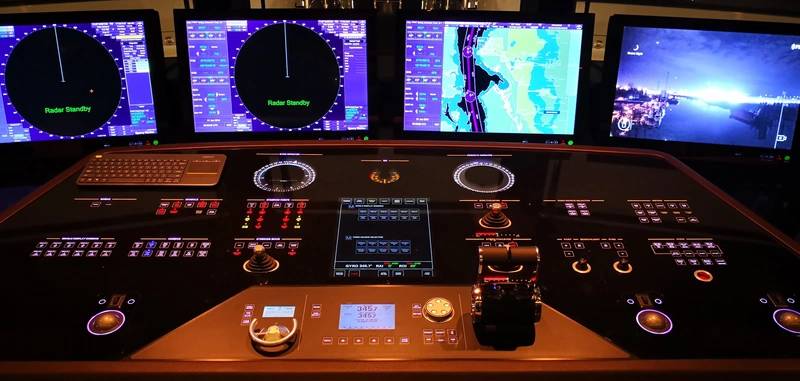 MLR features a complete Sperry Marine VisionMaster integrated bridge system comprising TotalWatch, dual ECDIS, X-band and S Band radar, Sperry Speedlog and Navigat compass systems. Photo: Sperry Marine

• bridge systems • marine technology • Sperry