Tasmanian Luxury Wilderness Cruise Operator Launches Odalisque III Cruise Ship
Yachting Journal
On Board, a luxury wilderness expedition cruise company in Tasmania, has launched the Odalisque III liveaboard cruise ship, which was designed by Incat Crowther.
On Board launched Odalisque III in January 2023 with a public ceremony attended by local media at Hobart's historic Constitution Dock, and the , a 24-meter boutique vessel is now set for its maiden voyage into the Tasmanian Wilderness World Heritage Area.
Built by Tasmanian shipbuilder Richardson Devine Marine, the aluminum-hulled Odalisque III can host up to 12 guests in six stylish and flexible guest cabins, each with its own ensuite.
The upper deck features three large guest cabins, a wheelhouse lounge and dining area as well as an outdoor dining and viewing area. The main deck features four cabins, a large indoor dining area, an outdoor viewing platform, and the galley.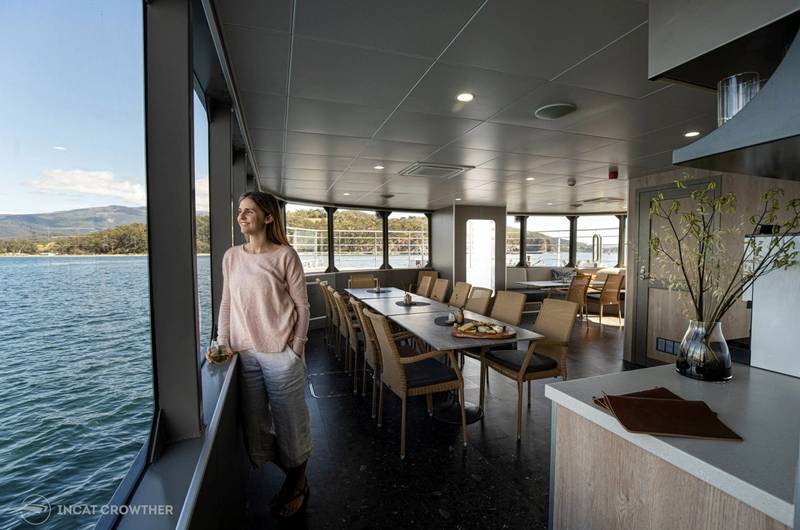 ©Incat Crowther
According to Incat Crowther, configured to offer a "world-class" dining experience while also being operationally efficient, the galley is conveniently located adjacent to the pantry, refrigeration, and cleaning facilities.
In total, Incat Crowther said, Odalisque III boasts three outdoor viewing decks and a bridge open to guests allowing uninterrupted views of the spectacular Tasmanian wilderness.
Odalisque III's design has also allowed for the addition of two tenders, accessible from the main deck, to allow guests to enjoy shore excursions.
Incat Crowther's CEO Brett Crowther said close collaboration with suppliers and On Board CEO Pieter van der Woude was a crucial element of the project: "Our team enjoyed collaborating with Pieter and Richardson Devine Marine to help bring On Board's vision of creating a floating wilderness lodge to life,"
"Odalisque III has it all, from six stylish and flexible cabins to multiple indoor and outdoor dining and entertainment areas – all supported by state-of-the-art commercial dining facilities. "The vessel also features several guest lounge and bar areas, while the design of Odalisque III means guests can either choose to board a tender for an onshore adventure or sit back, relax and enjoy the sweeping views on offer in one of the world's most stunning environments," said Crowther.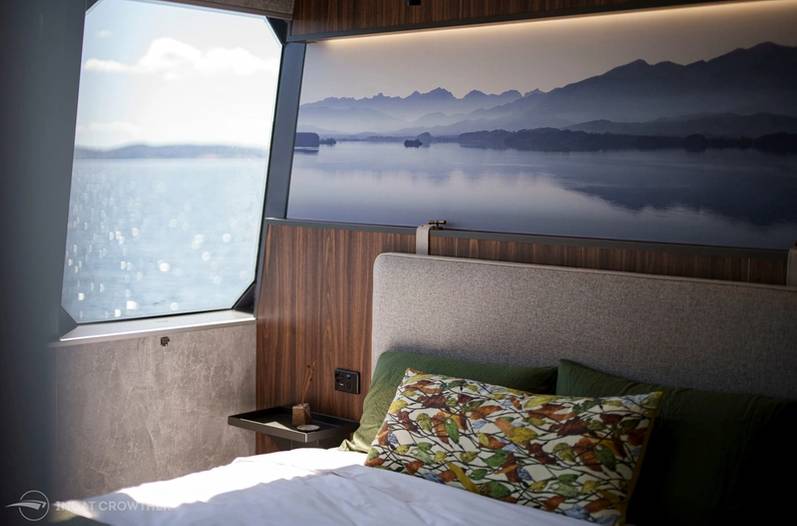 ©Incat Crowther